Can you imagine an even hotter, drier Phoenix?
Certainly not if you've been to the sun-drenched Arizona capital in the summer.
Such an inconceivable scenario is being proposed by the LA Times.
"Today, Phoenix is a horizon of asphalt, air conditioning and historic indifference to the pitfalls of putting 1.5 million people in a place that gets just 8 inches of rain a year and where the temperature routinely exceeds 100 degrees," a recent article states.
Evidently climate change will make things worse.
"The future, scientists say, will be even hotter and drier, the monsoons more mercurial," LA Times reporter William Yardley writes.
Summertime highs could reach 130 degrees before the end of the century, according to the article. Yardley draws in part on a study by Climate Central and the Weather Channel that found that the average temperature in Phoenix had increased 1.12 degrees in summer 2016 over the previous half a century, more than any major city.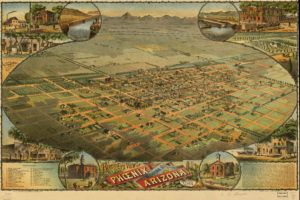 Some of that rise is from the "urban heat island effect," which limits natural nighttime cooling, scant coverage from trees, and the city's sprawl creates emissions that contribute to the overall heating of the atmosphere, according to the article.
However, Phoenix is trying to do something about it. As President Trump was reversing Obama-era decisions made in concert with the Paris climate agreement, the city adopted a goal to reduce its greenhouse gas emissions by 40 percent by 2030 from 2005 levels.
Lloyd's
Doing something about it may put Phoenix ahead of the pack.
A report out from Lloyd's at the beginning of the week titled, "Future Cities: Building infrastructure resilience," notes that global exposure to disasters has risen over recent decades.
And it appears that exposure will grow.
"This trend that is likely to continue because most global population increases will take place in Asian and sub-Saharan African cities, which are more at risk from natural hazards," the report states.
Direct losses from disasters in the past decade are estimated at U.S. $1.4 trillion, and the Lloyd's City Risk Index found that $4.6 trillion of the projected GDP of 301 of the world's leading cities is at risk from 18 threats over the next decade.
Lloyd's in coordination with Arup developed a set of guiding principles for the planning, design, construction and operation of some of the key components of city infrastructure to improve resilience.
Cyber threats, terrorism and water shortages are among the key risks identified in the Lloyd's report.
The risk of climate change is peppered throughout:
"Climate change is driving more extreme weather events that pose a threat of damage and interruption to transport infrastructure."
"Climate change will drive an increase in the intensity and unpredictability of climatic hazards; events such as Hurricane Katrina demonstrate the potential impact on urban energy continuity."
"Temperature extremes driven by climate change will have an increasing impact on global water security. In many rapidly growing countries urbanisation is also placing increasing pressure on water resources, while unsustainable development pathways and governance failures affect the quality and availability of water resources."
"Climate-driven shock events, social unrest and new types of infrastructure-focused terrorism will have an increasing impact on local water-system continuity."
The sources for these findings are detailed in the report, which can be downloaded on the Lloyd's website.
Among other measures, Lloyd's recommends the following for cities:
Prevent failure: make city infrastructure more resilient to shocks so that even if parts of it fail temporarily, the overall system still works
Expedite recovery: examine ways in which infrastructure can be restarted as quickly as possible post-disaster to save lives and prevent further failures; and
Transform performance: replace damaged infrastructure with a more resilient version as part of the rebuilding process.
China
China is poised to take the lead in the battle against climate change now that President Trump has abdicated the nation's front-runner position on the Paris climate agreement.
Trump was at the Environmental Protection Agency to sign an executive order that essentially undoes the Clean Power Plan and strikes at the heart of the Obama administration's efforts for compliance with the Paris agreement that the U.S. and nations around the world entered into nearly two years ago.
Trump said he signed the order to improve the economy and bring back jobs.
"My administration is putting an end to the war on coal," Trump said following the signing of the order.
This is a complete role reversal for the world's two biggest carbon emitters. Following the Paris agreement, the Obama Administration pleaded with China to commit to limiting the use of fossil fuels.
Lu Kang, a Chinese Foreign Ministry spokesman, told a daily news briefing that climate change is a common challenge for everyone.
"We still uphold that all sides should move with the times, grasp the opportunities, fulfill their promises and earnestly take proactive steps to jointly push the enforcement of this agreement," Lu said. "No matter how other countries' policies on climate change, as a responsible large developing country, China's resolve, aims and policy moves in dealing with climate change will not change.
A New York Times article states that following Trump's election in November, China's leaders have begun to encourage all countries to abide by the Paris agreement.
"They've set the direction they intend to go in the next five years," Barbara Finamore, a senior lawyer and Asia director at the Natural Resources Defense Council, told the Times. "It's clear they intend to double down on bringing down their reliance on coal and increasing their use of renewable energy."
She added that "China wants to take over the role of the U.S. as a climate leader," and that the country's leaders have worked this stance into their economic development blueprints.
Fingerprints
A "human fingerprint" can be found on global extreme weather in the form of droughts, heatwaves, and floods, according to new findings from a group of scientists.
Their work analyzed extreme weather caused by changes in planetary waves (also known as Rosby waves), including the prolonged California drought, heatwaves around the globe and the severe floods in Pakistan in 2010.
Planetary waves are a natural phenomenon in the atmosphere and oceans that are driven largely by the rotation of the Earth. At certain temperatures the waves can grind to a halt and subject large regions to unchanging weather for extended periods, thus creating droughts, heatwaves and floods, according to the paper.
"Persistent episodes of extreme weather in the Northern Hemisphere summer have been shown to be associated with the presence of high-amplitude quasi-stationary atmospheric Rossby waves within a particular wavelength range," an abstract of the paper published in the Journal Nature states.
It explains that the underlying "mechanistic relationship" involves quasi-resonant amplification (QRA) of synoptic-scale waves (a horizontal length scale) with a certain wavenumber range becoming trapped within an effective mid-latitude atmospheric waveguide.
"Recent work suggests an increase in recent decades in the occurrence of QRA-favorable conditions and associated extreme weather, possibly linked to amplified Arctic warming and thus a climate change influence," the abstract states.
The paper isolates a specific fingerprint in the zonal mean surface temperature profile "associated with QRA-favorable conditions," while historical climate model simulations that were subjected to anthropogenic forcing displayed an increase in the projection of this fingerprint mirrored in multiple observational surface temperature datasets.
"Both the models and observations suggest this signal has only recently emerged from the background noise of natural variability," the paper states.
Past columns:
Was this article valuable?
Here are more articles you may enjoy.