One would expect to see high levels of satisfaction between an independent agency and its top carrier, but that isn't always the case. Peeling back the layers usually reveals fertile ground for improvement and shows the path to higher performance and more profitable agency-carrier relationships, according to preliminary findings in a new industry study.
The study, Agents' Views on How Carriers Can Compete & Win, is the 10th in an annual series from Channel Harvest Research and examines agents' views on property/casualty carriers and marketplace issues. More than 2,000 independent agents provided their opinions for the survey, which was sponsored by Insurance Journal.
On the personal lines side of the study, agents gave their top carriers gave high marks for claims service, customer service and underwriting responsiveness, yet they hold their leading carriers to an even higher standard when it comes to those performance measures.
For example, 77 percent said their most favored carrier's claims service was better than average or far better than average, yet 95 percent rated claims service as very or somewhat important.
"Agents are saying, 'You're doing well on these things but we need more,'" said Regis Coccia, research director of Channel Harvest. "And those are the kinds of discussions you hope to see taking place when agent advisory councils meet. Ideally, agents and carriers will focus on moving the needle from 'good' to 'great' because that's where the most immediate and measurable improvements can be made."
Other areas where a gap exists between performance and expectations include customer service (71 percent rated better than average compared with 95 percent of agents saying it's important) and underwriting responsiveness (69 percent to 94 percent). Even larger gaps between performance and expectation were seen for competitive pricing, underwriting appetite and underwriting flexibility.
"With risk continually changing and changing faster than ever it's understandable that agents are concerned about their carriers' ability and willingness to take on new and evolving risks," said Coccia. "The economy and regulation will drive some of that, too, as business growth will create a bigger demand for insurance." According to Coccia, the question will be, "Can carriers keep up and can agents find markets?"
The survey also revealed a wide array of perceptions — both positive and negative. For example:
"Direct channel killing us in personal lines."
"High authority to make decisions and get things done at the field level."
"Old-school apps sometimes hard to get business owners to complete just for quote."
"Provides agents with tools to help them do surveys of clients … surprisingly most agents don't take advantage of this resource."
"We have a very good rapport with the marketing specialist."
A total of nearly 2,100 agency personnel working in personal and commercial lines responded to this year's survey, co-sponsored by Insurance Journal and conducted between February 1 and April 1. Respondents ranging from principals to producers to CSRs answered nearly 200 questions about personal lines and commercial lines carriers.
For more information and to purchase the 50-plus-page report as well as accompanying raw data, contact Bob Fritze, sales director of Channel Harvest, at bob@channelharvest.com.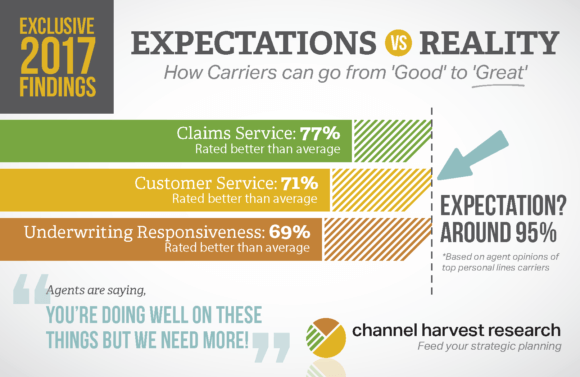 Source: Channel Harvest
Was this article valuable?
Here are more articles you may enjoy.