It's no easy feat to survive as a small business let alone to survive and thrive after 132 years in operation. That's what Morris & Garritano (M&G) — winner of Insurance Journal's 2017 Best Agencies to Work For 2017 Overall Award — has accomplished all while creating a workplace where employees feel appreciated and satisfied.
This third-generation family owned business has held the same values throughout the decades and their employees stand behind them.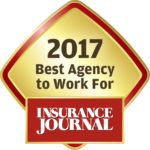 "Always be improving, love what you do, do the right thing, build collaborative relationships, go the extra mile — these are the core values of M&G and they really do live and die by these values," one employee told Insurance Journal in an anonymous survey.
Doing the right thing for customers, employees and the community has always been at the heart of M&G, but about three years ago, Brendan Morris, principal and CEO, along with partners, Kerry Morris (Brendan's sister), Gene Garritano and Dan Troy, set out to better define principal values held by its owners for more than 100 years.
"Even though we redefined our core values, our agency and our people have been living these for many, many years," Morris said. "I think it's what sets us apart. Our culture, our values, and our employees who without a doubt get behind them every day."
M&G's roots began in 1885 with Archibald McAlister who first opened the "Lands, Loans, Rents & Insurance" office in San Luis Obispo, Calif. Over the decades the agency's name changed a few times as new generations took over leadership of the firm, including the entry of the Morris family in 1935 with Brendan's grandfather Harry Morris, followed by Greg Morris (Brendan's father) in 1964.
One employee noted: "They are family owned and operated. They treat the employees well, they are always looking for ways to improve. Doing the right thing by the clients is important to them and that provides a very encouraging work environment."

M&G's track record as a stable, integral part of the community is especially encouraging today as consolidation within the insurance industry remains at an all-time high.
"In our industry, there's a lot of consolidation but we've always been passionate about remaining independent and privately owned," Morris said.
That strategy has worked, Morris said. During the past three years M&G has experienced more than 62 percent growth in agency revenue, which placed the agency on the Inc. 5000's Fastest Growing Private Companies in America (ranked at No. 4,243) in August 2017. M&G will end the year with close to $18 million in total revenue with about 130 employees.
Morris doesn't shy away from crediting the M&G team for the agency's success now and in the future.
"We look at our team as our family and it's a great place to work because of our team," Morris said. That's what makes M&G a great place to work, he said.
When asked what he would tell other agency owners about how to make their agency a best place to work, Morris didn't hesitate: "I really think that it's about hiring the right people. And always try to improve for yourself and the agency."
Best Agencies to Work For – Gold Winners:
Topics Agencies
Was this article valuable?
Here are more articles you may enjoy.