Where Every Employee Is an Owner
As one employee stated: "This is not a great place to work — Gibson is the BEST place to work."
That's the sentiment expressed by numerous employees at Indiana-based Gibson, which was selected as this year's Best Agency to Work For Gold Award winner for the Midwest region.
In addition to its corporate headquarters in South Bend, Gibson has offices in Elkhart, Fort Wayne, Indianapolis and Plymouth. With 150 employees, the agency has $22.5 million in annual revenue, according to Gibson Principal and Director of Marketing and Innovation Tania Bengtsson.
IJ relies on many factors in selecting the Best Agency to Work For, but employee comments and its high score on IJ's grading scale, helped Gibson rise to the top in the Midwest.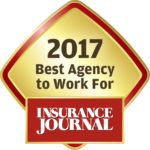 Employees at Gibson really, really like the fact that they own the company, which operates under an ESOP, or employee stock ownership plan. Responding to IJ's Best Agency survey, employee after employee commented that the ESOP gives them confidence that the work they do is meaningful not only for the company but for themselves and their colleagues, as well.
"Because of our ESOP, we truly all have a stake in the work we do. The people I work with on my team really care about perpetuating the business and try to teach and grow and involve a young professional such as myself," commented one employee.
Knowing that Gibson employees nominated the agency and responded so positively to the poll "feels great!" Bengtsson said. "Our employees' happiness has direct impact on our success. Our people are our most valuable asset. We are embracing change, instinctively working together, collaboratively facing challenges, overcoming them, and working towards a common vision. Watching it all unfold is fantastic."

Many employees lauded Gibson's commitment "to helping its clients grow by thinking beyond insurance and becoming proactive risk managers."
One of the ways it accomplishes that goal is through the Gibson Protection System, or GPS. The GPS "helps companies identify and develop a plan to manage risk."
Another said the program "is our key external differentiator. It's the process we use to identify, quantify, and manage risk for our clients to help them protect what matters most," one employee said.
What's Bengtsson's advice for creating a place where people want to come to work?
"Listen, listen, listen to your people. Find numerous ways to ask them a) why they come to work, and b) why they stay. Then turn the feedback into action.
"This will help keep a finger on the pulse of your culture and allow you to deliver a truly differentiated level of protection," she said.
Best Agencies to Work For – Gold Winners:
Was this article valuable?
Here are more articles you may enjoy.