The battle among auto insurers to win and retain business is as heated as it has ever been.
A combination of record-low volumes of new insurance shoppers, consistent price competition among insurers and emerging "insurtech" disruptors on the horizon have forced auto insurers into aggressive customer courtship mode, according to the J.D. Power 2018 U.S. Insurance Shopping Study.
With less differentiation in the marketplace, insurers are investing heavily in new digital capabilities to improve the insurance shopping process and in national advertising to build their brands.
"We're entering an era of consumer-centric insurance that will likely be marked by a surge in new digital offerings and serious efforts by insurers to improve the auto insurance shopping experience," said Tom Super, director of the Property and Casualty Insurance Practice at J.D. Power. "Auto insurers looking to differentiate and win new customers are making big bets with digital—such as in personalization—that meet customers' growing expectations for improved interactions."
Direct writers are winning the auto insurance war while insurtechs have not made much of an impression on buyers to date, analysts at J.D Power maintain.
Following are selected J.D. Power findings and commentary from the 2018 study:
Directs are winning purchase experience battle: Overall satisfaction among shoppers who purchased insurance from companies that primarily sell directly to the customer is 846 (on a 1,000-point scale). This compares with a score of 842 among shoppers who purchased insurance from companies that primarily sell through independent agents and 834 among those who bought from insurers who primarily sell through exclusive agents.
Brand reputation is a top driver: Brand reputation is the top driver of consideration, contributing 29 percent of what influences an insurance shopper to research an insurer's offerings. Accordingly, the top 10 insurers in terms of total market share now write 72 percent of all business in the country, up from 64 percent in 2000. While a strong brand, among other factors, can help drive traffic, a strong value proposition remains essential in driving quote and close rates.
Delivering a consistent omnichannel experience is critical: Among auto insurance shoppers, 45 percent use multiple channels when purchasing a policy, illustrating the need for insurers to develop digital capabilities that support the rest of their business functions, not replace them.
Insurtech customer awareness still low: While insurtech companies have raised more than $7.1 billion globally since 2012, the level of awareness of alternative insurance models is still relatively low among insurance shoppers. Just 6 percent of prospective customers indicate being aware of at least one of the following companies: Lemonade, Metromile, Trov and Sure. Less than half of shoppers who are aware of a given provider would consider doing business with them in the future.
Study Rankings
Erie Insurance ranks highest among auto insurers in providing a satisfying purchase experience, with a score of 877. This marks the sixth consecutive year Erie Insurance has ranked highest in the study. Auto-Owners Insurance ranks second (870) and American Family ranks third (860).
The U.S. Insurance Shopping Study measures auto insurance shopping, purchase behavior and purchase experience satisfaction among customers who recently purchased insurance. Satisfaction is measured in three factors (in order of importance): price; distribution channel; and policy offerings. The study is based on responses from more than 15,000 shoppers and includes more than 50,000 customer evaluations of insurers. The study was fielded in April, July and October 2017and January 2018.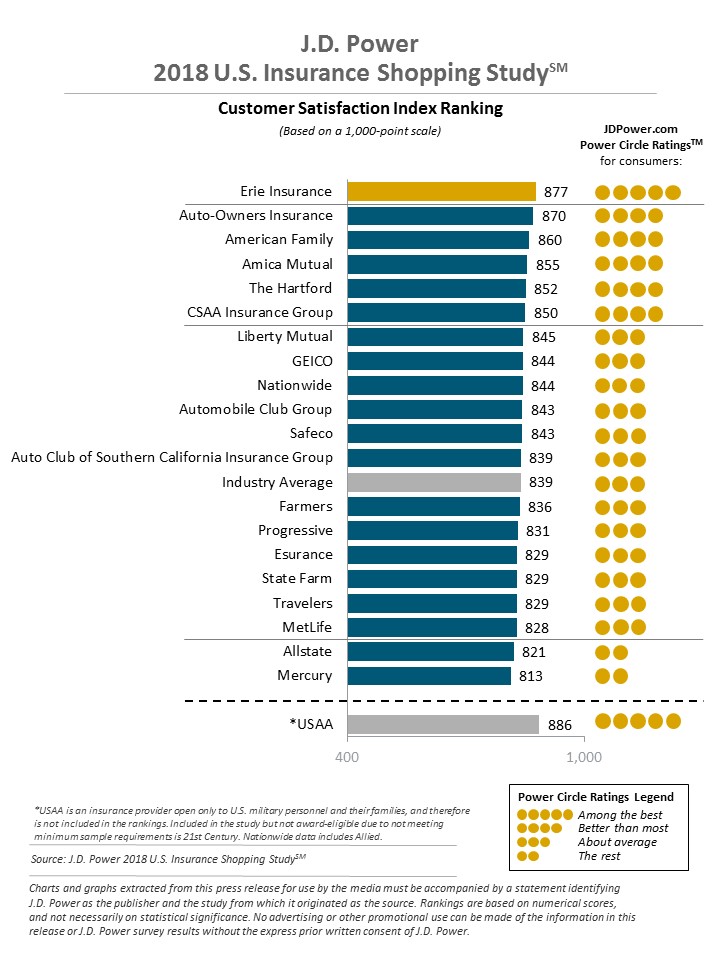 Was this article valuable?
Here are more articles you may enjoy.