American International Group announced that John P. Repko will join the company as executive vice president, chief information officer, effective September 4, succeeding Martha Gallo, who the insurer said is leaving AIG to pursue other interests.
Repko will be responsible for AIG's global technology strategy, overseeing core shared infrastructure, technology partnerships and process engineering efforts.
Repko is joining AIG from Johnson Controls (JCI), where he has served as the global chief information officer since 2016, taking up this position with the merger of JCI and Tyco. Repko previously served as senior vice president, chief information officer at Tyco from 2012, a role that included responsibility for IT, process, shared services and transformation. He also held chief information officer roles at Covance Inc., SES Global and General Electric's GE Americom division. He began his career as senior accountant, CPA, with Ernst & Young.
Repko currently serves as a member of the Salesforce.com CIO advisory board, the Insight Venture Partners CIO advisory board, and the Lightspeed Venture Partners CIO Innovation Advisory Network.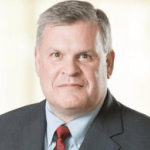 Repko will report to Brian Duperreault, AIG president and chief executive officer, and serve as a member of AIG's Executive Leadership Team.
Gallo, former AIG chief auditor, was named CIO in 2017 by then-CEO Peter Hancock. She succeeded Philip Fasano, a former Kaiser Permanente executive who was named CIO in 2014.
Duperreault thanked Gallo for her work as chief information officer at an important, transitional time for the company. "She brought new focus to the global IT organization to align it more closely with the needs of the business and created a strong foundation to take our technology function to the next level," the CEO said.
Topics AIG
Was this article valuable?
Here are more articles you may enjoy.