Businesses should prepare for the physical consequences of a warming planet, according to a new report out from Zurich Insurance Group.
The report, "Managing the impacts of climate change: risk management responses," was published at the start of Climate Week NYC, a gathering of investors and public and private leaders in New York that wraps up this weekend.
The New York event had several authoritative reports and surveys timed to be released during or around the event.
One such report out this week came from the Task Force on Climate-related Financial Disclosures in its 2018 Status Report to the Financial Stability Board. That report shows climate-related disclosure is becoming mainstream as more firms align their financial reporting to recommendations by a global task force, although few disclose the financial impact on the company.
Also this week a group of the world's top oil and gas companies pledged to slash emissions of a potent greenhouse gas by a fifth by 2025 in an effort to battle climate change.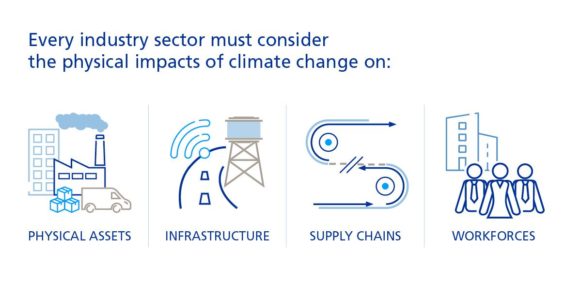 The Zurich report provides risk management tools, and outlines approaches and best practices to help businesses respond to the growing threat of climate change.
Zurich in its report recommends that businesses develop a climate resilience adaptation strategy, which should identify the broad business and strategic risks, develop a granular view of the risks involved including, for example, individual locations, and develop a mitigation strategy involving insurance and resilience.
Zurich's findings are partly based on the Paris Agreement goal of limiting global warming to below 2°C and what would happen if warming were to be allowed beyond this limit, which scientific consensus suggests the planet would experience "devastating climate change impacts," the report states.
While the report advises businesses about the impacts of climate change, insurers should also take note of the report, according to Alison Martin, group chief risk officer and a member of the executive committee at Zurich.
That's because the insurance and reinsurance sectors are "one of the most vulnerable to climate change," she said.
Martin noted that climate change-driven losses like more extreme weather, greater flooding, and severe hail will have a direct impact on insurers.
"Ultimately these things end up in insurance coverages," she added.
The report details three steps businesses can follow to develop a climate resilience adaptation strategy:
Identify the broad business and strategic risks;
Develop a granular view of the risks including individual locations;
Develop a mitigation strategy involving insurance and resilience, as well as strategic implications for business models.
"We don't just want to insure people against an event happening, we want to make sure whatever the impacts of that event are, it's less than it would have been," Martin said.
The report also urges businesses to keep an eye on society's transition to greener energies – not just because there is the potential of having assets stranded as fossil fuels increasingly fall out of favor – but the report encourages businesses to take a look at the potential opportunities from this transition.
"The opportunity lies in the scalability of low-carbon solutions, including clean energy and mitigation technologies that can accelerate this growing market and support the transition of the global energy sector," the report states. "Simultaneously, this transition will require significant capital to change a society that has been dependent on a fossil fuel-based energy system."
The report draws on information from a 2017 report by the International Finance Corporation that asserts that climate change could create investment opportunities amounting to $23 trillion by 2030 in emerging markets alone.
Martin said the opportunity for the insurance industry is to help guide businesses through these transitions and to help them asses their risks, all while being an expert voice on risk management and insurance that companies can lean on.
"Climate change is one of the most complex, interconnected risks that the world faces," Martin said.
Past columns:
Topics Energy Oil Gas Climate Change
Was this article valuable?
Here are more articles you may enjoy.