Between the devastating wildfires in California and the destructive forces of Hurricanes Florence and Michael on the East Coast earlier this fall, the property/casualty insurance market has been put to the test this season.
The challenge has been greater for some firms than others. While large national insurers have expanded their geographic reach over the past decade, the home insurance market continues to have heavy regional concentrations. According to SNL market share data, State Farm, Farmers, and AAA have the largest risk exposure in the California home market and are thus most likely to face direct impacts from the Camp and Woolsey wildfires.
How this may ultimately affect each carrier's earnings and profitability varies greatly based on reinsurance levels and the types of properties underwritten, among other factors. Beyond these bottom-line variables, though, the real determinate of P/C insurance industry winners and losers in this year of massive catastrophic losses will be how well they treat their customers when they are needed most.

When consumers enter into agreements with insurance companies, they are essentially buying a promise. So, when these large catastrophic events occur, such as the Camp and Woolsey Fires, or Hurricanes Florence and Michael, they shine a light on those companies that are able to deliver on that commitment at great scale, and on those that miss the mark.
The industry's response to Hurricanes Florence and Michael has received high marks from those affected policyholders. According to the findings of a recent J.D. Power Survey, the industry performed well overall, with 87 percent of survey respondents who had filed a claim in the wake of the storms stating that their insurance company had either met or exceed their expectations. The numbers were even stronger among customers experiencing major damage, with 42 percent of those policyholders rating their insurer a perfect 10.
The survey also found that customers were satisfied with the industry's operational response. A strong majority (90 percent) of customers reported being contacted by their insurance company to offer assistance (63 percent by phone, 44 percent by email, 29 percent in-person). Further, 79 percent of customers reported that their insurance company had fully informed them of their coverage options prior to the hurricane, ensuring they were adequately covered ahead of time.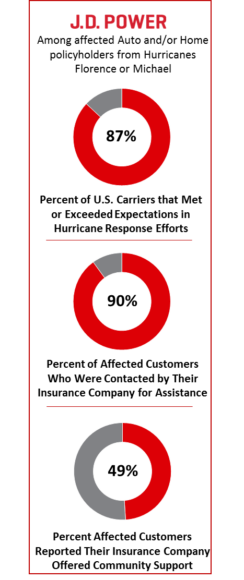 These are critical stats – perhaps more important than the threat of short-term earnings shortfalls. Catastrophic loss claims are moments of truth for P/C insurance customers. When insurers deliver, they receive enormous brand loyalty in return. According to our research, when customers are "delighted" with the service they receive from their insurer following a catastrophic event, 78 percent of them say they will "definitely" renew or purchase from the same insurer. That percentage falls to 67 percent among customers who are merely pleased, 32 percent among those who are indifferent, and 5 percent among those who are displeased.
These will be trying times for lives of many impacted by these terrible events. If the devastating hurricanes that took place earlier this fall are any indication, customers can take great solace in knowing the industry has stood with them during their time of need. While it may be tough to see that silver lining amidst the destruction currently making headlines, the industry does have an opportunity to showcase its best during this trying time.
Was this article valuable?
Here are more articles you may enjoy.