Health insurers added about $48 billion in market value and led U.S. stock market gains on Wednesday after Joe Biden's once-faltering Democratic presidential campaign was reanimated on Super Tuesday.
The country's largest health insurer, UnitedHealth Group Inc., increased its market capitalization by more than $20 billion in one day as Wall Street looks on a candidacy of the former vice president more favorably than that of Senator Bernie Sanders. Sanders has campaigned on the promise of Medicare-for-all, which poses a threat to private insurers.
Biden favors building upon Obama's Affordable Care Act, and may look to expand the private Medicare Advantage market, where UnitedHealth dominates. Medicare Advantage allows beneficiaries to get coverage from private insurers. Anthem Inc. and UnitedHealth both had the biggest gain since Oct. 2008, climbing as much as 16% and 13%, respectively.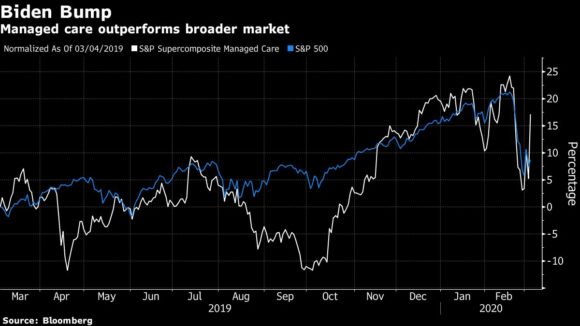 Centene Corp. also climbed, rising as much as 17%, shaking off a disappointing 2020 forecast on Tuesday night. Citi's Ralph Giacobbe opened a positive catalyst watch on the stock last night, calling Super Tuesday and the guidance a "clearing event" for Centene. Bernstein's Lance Wilkes said insurers with ties to Medicaid and health-care exchanges should fare particularly well.
Humana Inc. and Cigna Corp. also posted double-digit gains, rounding out the top five performers on the S&P 500 Index Wednesday morning. EHealth Inc., a company with an online comparison tool for Medicare plans, rose as much as 23%.
The Health Care Select Sector SPDR Fund, known by its ticker XLV, rose as much as 4.7% after closing down yesterday. Goldman Sach has been calling for a relief rally for the sector despite options trading pointing to a bearish outlook. XLV had lost nearly 10% from its Jan. 22 record before today.
Biden's sweep on Super Tuesday "will spur positive returns across the health-care insurance peer group" as well as other closely tied sectors that the Sanders campaign had been targeting, said Jared Holz, a health-care strategist at Jefferies. Michael Bloomberg, the founder and majority owner of Bloomberg LP, the parent company of Bloomberg News., ended his bid for the nomination while throwing his weight behind Biden.
The Democratic contest remains a "a fluid situation," Holz said. He added that "this week has already proven, major shifts in campaign forces can occur in a blink."
Photograph: Former Vice President Joe Biden, 2020 Democratic presidential candidate, arrives with his wife Jill Biden, left, and sister Valerie Biden, right, at a primary night rally in the Baldwin Hills neighborhood of Los Angeles on March 3, 2020. Photo credit: Patrick T. Fallon/Bloomberg.
Copyright 2021 Bloomberg.
Topics Carriers
Was this article valuable?
Here are more articles you may enjoy.