This year began with auto insurance buyers shopping around more than ever but by mid-March shopping began to slow down before returning to normal a few weeks later.
According to the data firm LexisNexis, shopping has closely mirrored other pandemic developments — from a marked decrease correlated to the stay-at-home orders to an increase that appears to coincide with the timing of the federal stimulus checks. Premium rebates offered by many auto insurers also had an effect.
U.S. auto insurance shopping showed an average year to year growth rate of +7% from January through early March, according to the LexisNexis Insurance Demand Meter, a quarterly analysis of shopping volume and frequency, new business volume and related data. This began to change on March 16, when shopping declined to -11% year-over-year growth, the lowest level in more than a decade. Activity rebounded a few weeks later, returning to an average growth rate of +8%.
Similarly, new business volume growth has decreased at unprecedented rates, shrinking -10% in March and -14% in April. For Q1 2020, this represents a decline of 52% compared to Q1 2019 and tracks to a historical five-year average decrease, according to the meter.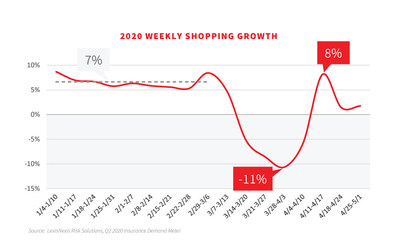 "The year started with the highest shopping rate ever, with 41% of all policies having been shopped in the past year. But it became clear that COVID-19 started to affect auto insurance shopping activity in mid-March," said Chris Rice, senior director of data science, insurance, LexisNexis Risk Solutions. "Not only did shopping volumes decrease, but new business volumes dropped even more as most carriers offered short term rebates to existing customers, making it difficult for consumers to find lower premiums with a new carrier."
The LexisNexis meter shows that among the states with the highest coronavirus cases, New York's growth rates dropped the fastest and bottomed out at -26%. Countrywide, shopping volumes dropped as much as -31% to as little as -6% compared to Pre-COVID volumes.
The pandemic has had the biggest impact for shoppers ages 35 and younger with growth rates down by more than -20% among this demographic group. Shoppers ages 55 and older kept on pace and their shopping even surged by 32% around the time of stimulus checks. Since then shopping has leveled off to the pre-COVID growth rate, according to the LexisNexis data.
Across the three types of insurance shopping channels – direct, exclusive agent and independent agent – the direct and independent agent channels took the biggest hits during the worst of the pandemic at -26% and -24% respectively. By contrast, exclusive agent carriers saw a far more modest decline of -9%.
"The U.S. auto insurance market has shrunk as a result of the pandemic, but carriers giving money back and the pause in cancelling policies for non-payment have also likely helped stabilize these shifts and could help it rebound," said Tanner Sheehan, associate vice president of auto insurance at LexisNexis Risk Solutions.
Sheehan said insurance shopping and new policy purchases can be seen as barometers for broader consumer behavior as well as reflections of specific insurance market conditions relating to rate levels, advertising spend, and changes in mobility.
Rice said the next few months will reveal if the market balances itself due to changing unemployment rates and advertising.
Source: LexisNexis
Was this article valuable?
Here are more articles you may enjoy.