The coronavirus pandemic contributed to a spike in workplace lawsuits in 2020 and the number is only expected to grow in 2021, according to legal experts.
At the same time, the incoming Biden Administration is expected to more aggressively enforce workplace laws than the Trump Administration did.
The Seyfarth law firm analyzed a record number of 1,548 class action rulings on a circuit-by-circuit and state-by-state basis to identify key themes from 2020 and emerging litigation trends facing U.S. companies in 2021.
"The pandemic's impact was felt in every aspect of life and in every sector of the economy, creating a record number of workplace class action rulings in 2020," said Seyfarth partner and author of the 17th annual Report, Gerald L. Maatman, Jr. "Despite the COVID-19 pandemic, we also saw settlement values increase this year for both the plaintiffs' bar and government enforcement litigation."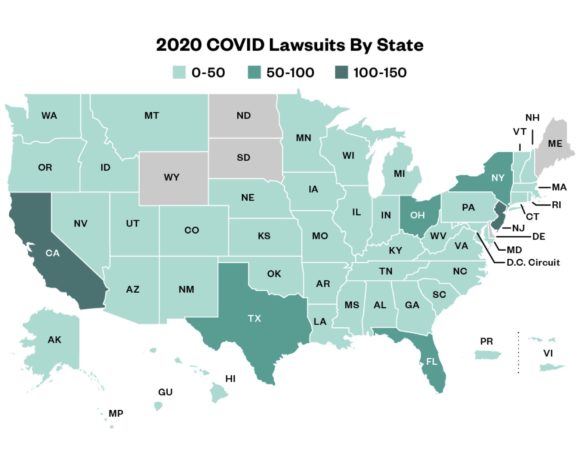 The Seyfarth Report details five key employment litigation trends for corporations in 2021:
COVID-19 Impact – The pandemic spiked more class actions for all types of workplace issues, with a record number of 1,548 rulings in 2020. As businesses return to the new normal, class actions emanating from the pandemic will be with employers in 2021 and beyond.
Change Is The New Normal – With a change from red to blue in the White House, a likely expansion of workers' rights, increased regulation of businesses, and aggressive enforcement of workplace laws is apt to take place in the next four years. With that platform, advocates for workers and labor are expected to ramp up their activities on the workplace class action litigation front.
Increased Values Of Settlements In Class Actions – Counter-intuitively, settlement numbers went up in the age of COVID and plaintiffs' lawyers and government enforcement actions garnered more money in 2020 than in 2019 – with settlements in the aggregate totaling over $1.5 billion in 2020. Many thought the pandemic would depress the pace and size of settlements in the new "cash is king" approach to the business cycle. Instead, workplace class action litigation defied those odds and demonstrated that the plaintiffs' bar converted case filings into significant settlement numbers.
Government Enforcement Litigation Slowed – The Department of Labor, Office of Federal Contract Compliance Programs and the Equal Employment Opportunity Commission deemphasized their litigation enforcement programs and brought less actions than ever before (94 lawsuits in 2020 as compared to 144 in 2019). Yet, their settlement numbers were up (a record amount of $535.4 million in 2020). Of the total amount collected, litigation recoveries increased from $39.1 million in 2019 to $106 million in 2020, the highest in 16 years. This approach is apt to change in a significant manner under the Biden Administration and reach higher levels.
Wage & Hour Litigation Remains The Sweet Spot For The Plaintiffs' Class Action Bar – Based on sheer volume and statistical numbers, workers scored the most success in securing certification of wage & hour class and collective actions in 2020 as compared to other areas of workplace law – and at the highest level ever seen in the last two decades. Certification percentages of wage & hour actions were 84% granted and 16% denied. This state of affairs is expected to explode in 2021 with a more friendly Department of Labor that makes wage theft its enforcement priority and with minimum wage increases in 25 states in 2021.
Source: Seyfarth Shaw LLP
Topics COVID-19 Lawsuits Trends Commercial Lines Business Insurance
Was this article valuable?
Here are more articles you may enjoy.