It's hot, get used to it.
That might be the clearest takeaway from a message out from the National Oceanic and Atmospheric Administration on Tuesday, which gave us a glimpse of the "new normal" in a changing climate.
NOAA releases an analysis every 10 years of U.S. weather of the past three decades calculating the average values for temperature, rainfall and other conditions.
These 30-year averages, known as the U.S. Climate Normals, represent the new "normals" of our changing climate. The latest average spans 1991-2020.
The averages are calculated using climate observations collected at local weather stations across the nation.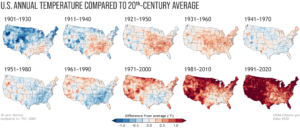 There are 10 versions of the U.S. Climate Normals collection from 1901-1930 to 1991-2020.
NOAA scientists compared the U.S. annual average temperature during each Normals period to the 20th-century average (1901-2000).
"The influence of long-term global warming is obvious," the report states.
As is clear in the graphic, the earliest map in the series has the most widespread and darkest blues, while the most recent map has the most widespread and darkest reds.
Earth's Value
The value of the planet has fallen due to environmental damage caused by humans, according to a report that estimates the Earth's natural infrastructure.
The planet's natural infrastructure, which includes atmosphere, forests, wetlands, and oceans, is worth roughly $33 quadrillion, according to an analysis by the Environmental Business International and originally published by the Climate Change Business Journal.
That figure is minus humankind's $5 quadrillion in damage to the environment. A quadrillion is equivalent to 1,000 trillion.
The idea behind valuating the planet and environmental damage is to drive home the point about the damage that climate change is doing, acknowledged Grant Ferrier, founder of environmental industry research firm EBI and editor of the Environmental Business Journal.
"By acknowledging the finite value of Earth and its resources and ecosystems — or its 'natural capital' or 'natural infrastructure' — we can show the validity of implementing economic instruments such as pollution taxes or resource extraction fees to start to account for the overall value of our planet," Ferrier said.
The analysis, which was conducted nearly a year ago but is just being publicized now, explains that natural resource valuation modeling is similar to how actuarial analysts apply economic values to measure monetary damages from hazards like contamination, pollution, weather events and climate risks.
The American Forest Association, for example, estimates the annual economic value of a tree at $500, a value that takes into account a tree's contribution to air quality, erosion control, shelter and temperature modulation. With 3 trillion trees on the planet, forests represent $1.5 quadrillion in economic value. Before the advent of agriculture and the timber industry, scientists estimate the earth had twice as many trees as it does now, the analysis shows.
France Regulation
France's banking regulator said this week that the nation's banks and insurers should speed up their response to climate change.
The remarks come after the regulator published what it called the world's first climate-related stress test of banks.
Other financial watchdogs around the world will also be conducting similar tests to help to reduce the impact of climate change on economies, meaning financial firms will have to disclose to investors the impact of climate change on their balance sheets under proposed European Union rules, Reuters reported in an Insurance Journal article on Wednesday.
The ACPR, the supervisory arm of the Bank of France, conducted a voluntary pilot test on nine banks and 15 insurers to measure resilience to common "scenarios" like a slow response to climate change.
The test covered a period from 2020 to 2050 and examined risks from transitioning from polluting to more climate-friendly assets and from physical risks like fires and floods. It found that exposures to transition risks were "rather moderate," but the expected increase in claims and premiums for some insurance risks was particularly noticeable.
There were also uncertainties over how fast climate change will unfold and data gaps, the watchdog said, the article states.
Among the findings in the report were that insurance claims following extreme weather disasters are set to increase two to five-fold over the next 30 years. To meet the rising costs of payouts, the review found insurance premiums would need to rise 130% to 200% over the next 30 years.
Swenja Surminksi, interim deputy director and head of adaptation research at the LSE Grantham Research Institute on Climate Change and the Environment, who was not involved in the French work, said the results of the climate stress provide profound insights into how climate change could impact the financial resilience in France and globally.
"The findings show how important urgent action to cut emissions and to better manage physical risks such as flooding and heat are," Surminksi said.
Earth-Observing Satellites
NASA is about to announce its next generation of Earth-observing satellites, releasing preliminary plans for a multibillion-dollar set of missions that will launch later this decade, the publication Science is reporting.
This "Earth system observatory" is designed to offer insights into clouds and aerosols, two possibly significant climate change contributors, and provide details about the temperatures and chemistry of the Earth's surface.
"Earth system science is poised to make an enormous difference in our ability to mitigate, adapt to, and plan for changes we're seeing," Karen St. Germain, director of NASA's earth science division, told Science. "The pace we're going to have to do that is much higher in the decade in front of us than the decade behind us."
That satellites are estimated to cost of up to $1.6 billion, and would replace CloudSat and CALIPSO. Those probes were launched in 2006 to shed light on how clouds and aerosols can slow global warming by reflecting sunlight or speed it by trapping heat. CloudSat was able to spot previously invisible light rain and snowfall and "provided the first global picture of total precipitation," while both satellites also showed that certain aerosols when mixed with clouds can suppress rainfall and extend clouds' lifetimes and their ability to block light, Science reported.
"We're in a time of challenge, there's no doubt about that," St. Germain told Science. "But it's also a time of unprecedented opportunity."
Past columns:
Was this article valuable?
Here are more articles you may enjoy.