Catastrophe modeler Karen Clark & Company (KCC) late Friday said the firm estimates insured losses from Hurricane Ian will near $63 billion.
Should KCC's calculations hold true, Ian will surely be remembered as one of the costliest hurricanes in U.S. history, even with $200 million of the total attributed to the Caribbean. Only Hurricane Katrina in 2005 would eclipse Ian in terms of insured losses, according to a chart from the Insurance Information Institute based on information from Aon.
When KCC released the estimate Friday, Ian had again strengthened to Category 1 hurricane status with winds on 85mph and had just made landfall in South Carolina between Myrtle Beach and Charleston near Caines after battering Florida. Hurricane Ian struck the Gulf Coast of Florida near Cayo Costa with winds of 150mph on Sept. 28.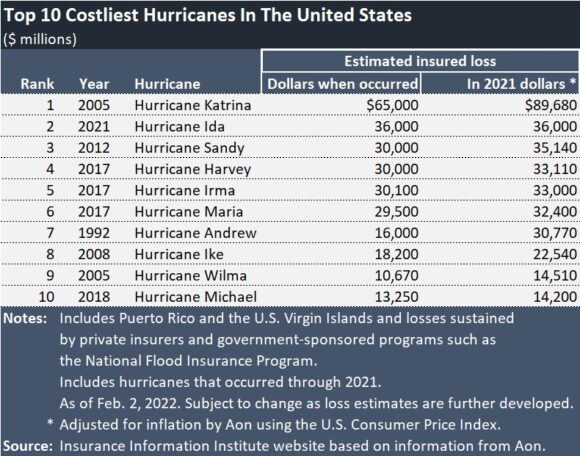 KCC's model estimate of private insured losses includes damages from wind, storm surge, and inland flooding to residential, commercial, and industrial properties as well as automobiles. It includes building contents and time-element losses, and takes into account demand surge and the impact of expected excess litigation in Florida.
The estimate from KCC does not include losses to the National Flood Insurance Program, or to boats.
"In nominal dollars, Hurricane Ian will be the largest hurricane loss in Florida history," KCC said. "The total economic damage will be well over $100 billion, including uninsured properties, damage to infrastructure, and other cleanup and recovery costs."
Insurers will be challenged by the coastal flooding caused by Ian and the "unique nature of the Florida market with respect to a likely high proportion of litigated claims," said KCC, adding that it assumes that insurers will pay some claims for damages that are not "explicitly covered." The firm has analyzed trends in claims litigation and although there have been some legislation and policy changes to curb litigated claims, the "large proportion of properties with both wind and water damage may induce more litigation," according to KCC.
CoreLogic on Friday said wind and storm-surge losses from Hurricane Ian could reach as $47 billion in Florida alone. Between $22 billion and $32 billion of losses are expected for residential and commercial properties, with storm-surge damage adding another $6-$15 billion, CoreLogic calculated. CoreLogic said its calculations include insured and uninsured losses.
Also read: Verisk: Up to $57B Insured Losses from Hurricane Ian
Photo: Tony Rivera carries items recovered from his family's waterlogged car through receding flood waters still filling a street in the Harlem Heights neighborhood, three days after the passage of Hurricane Ian, in Fort Myers, Fla., Saturday, Oct. 1, 2022. (AP Photo/Rebecca Blackwell)
Topics Catastrophe Natural Disasters Profit Loss Hurricane Hurricane Ian
Was this article valuable?
Here are more articles you may enjoy.