Wells Fargo & Co. and BNP Paribas SA are among firms that will pay hundreds of millions of dollars in penalties for employees using unofficial communications like WhatsApp, personal texts or email to conduct business — the latest in US regulators' crackdown on Wall Street's failure to keep records.
Three Wells Fargo units agreed to pay a total of $125 million to the Securities and Exchange Commission, and BNP will pay $35 million, the regulator said Tuesday. The two lenders will pay $75 million each over similar violations by their derivatives brokers, the Commodity Futures Trading Commission said.
In all, the CFTC announced penalties of $266 million on Tuesday, while the SEC said firms had agreed to pay it $289 million. Total fines for the probes into messaging practices have now crossed $2.5 billion since December 2021, making this one of the biggest financial enforcement efforts of the past decade.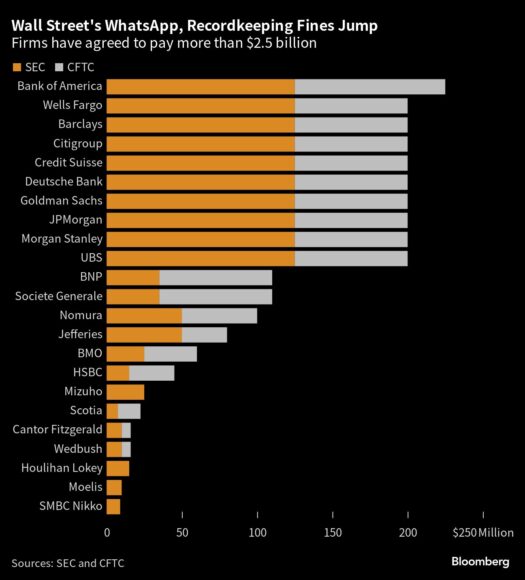 What began as a look at trading desks' use of chat apps has expanded into a look into all of finance's use of any kind of communication tool that doesn't save records appropriately. Hedge funds and private equity firms are also under investigation for their use of personal communication apps.
Wells Fargo spokesperson Laurie Kight said in a statement that the company was pleased to resolve the matter. BNP declined to comment.
SEC officials said they were well aware of other companies that weren't complying. "So here are three takeaways for those firms who haven't yet done so: self-report, cooperate and remediate," said Gurbir Grewal, the SEC's head of enforcement. "If you adopt that playbook, you'll have a better outcome than if you wait for us to come calling."
Tuesday's slate of penalties is nowhere near the end of regulators' efforts to crack down on Wall Street's use of unmonitored messaging apps. A wide swath of firms have disclosed that regulators are looking at their messaging practices, including banks Fifth Third Bancorp and Truist Financial Corp., and the private equity titans Apollo Global Management Inc. and Carlyle Group Inc.
Financial firms are required to monitor and save communications involving their business to head off improper conduct. When they don't, regulators say it's significantly harder to investigate wrongdoing. Their work is made even more difficult when bankers use messaging tools that delete communications automatically.
Investigations Harder
Tuesday's actions follow a string of cases released last September. At the time, the SEC announced $1.1 billion in fines against companies including Bank of America Corp., Citigroup Inc. and Goldman Sachs Group Inc., while the CFTC said firms agreed to pay $710 million in penalties. In May, HSBC Holdings Plc and Scotiabank settled regulators' probes into their communications practices, paying fines of $45 million and $22.5 million, respectively.
On Tuesday, the SEC said that its investigation "uncovered pervasive and longstanding off-channel communications." As part of the settlements, the companies admitted that their employees had used platforms like iMessage, WhatsApp and Signal to discuss business. The companies didn't maintain sufficient records, according to the SEC. The CFTC said it found similar violations.
Other notable firms that agreed to settle on Tuesday included units of Bank of Montreal, Mizuho Financial Group and Societe Generale SA.
A BMO spokesperson said the company has "made significant enhancements to our compliance procedures in recent years," and was pleased to have resolved the probe. Mizuho, SocGen, Houlihan Lokey Inc., Moelis & Company LLC and SMBC Nikko declined to comment on Tuesday's announced settlements. A representative for Wedbush Securities Inc. didn't respond to a request for comment.
Copyright 2023 Bloomberg.
Was this article valuable?
Here are more articles you may enjoy.