Independent insurance agents report unprecedented satisfaction with their carrier partners, but that doesn't mean they aren't keeping their options open due to the rising cost of premiums.
According to the J.D. Power 2023 U.S. Independent Agent Satisfaction Study, overall agent satisfaction with insurers of both personal lines and commercial lines has reached an all-time high, surpassing 2022's record-setting score.
Year over year, personal lines satisfaction has achieved a significant 17-point increase, reaching a record 774 on a 1,000-point scale. Commercial lines satisfaction has increased by six points to 762 points out of 1,000. The most significant gains in satisfaction with commercial lines are in claims process and support and communication, while the largest gains in personal lines are claims process and commission.
Even so, as client renewals come around, more agents have been shopping for lower prices to help with retention. More than half of personal lines (57%) and commercial (52%) lines agents say they are proactively shopping for clients more now than two years ago.
"Carriers are doing a great job of providing quality service to agents, and it creates a huge competitive advantage," said Stephen Crewdson, senior director of insurance business intelligence at J.D. Power. "Agents are more willing to place business with a carrier when they are more satisfied with their experience."
Agents cited the most significant factors in placing business with a specific insurer as ease of quoting (18% personal and 17% commercial) and risk appetite aligned with agency (13% personal and 15% commercial). Underwriting experience is more important for commercial lines (10%) than personal lines (5%). Commission and incentives (6% personal and 5% commercial) are among the least important factors.
"However, the uptick in agents shopping their clients' policies shows that rising premiums are the ultimate disruptor, threatening to upend even a strong existing relationship," Crewdson said. "That puts the onus on carriers to find ways to incentivize agents to stay by offering an experience that can justify these cost hikes."
Many independent agents are part of an agency alliance, giving them better access to more carriers, better buying access and increased support and communication. Generally speaking, the larger the alliance, the more satisfied agents are with insurers. However, bigger isn't always better. The largest alliances ($50 million+ in revenue) are the least satisfied of all alliance groups (793 for personal lines and 755 for commercial lines), and agents are less satisfied than agents not in an alliance for commercial lines (765).
This year, Auto-Owners Insurance ranks highest among insurers for personal lines, scoring 839. Erie Insurance (829) ranks second and Progressive (806) ranks third. In 2022, Erie was first followed by Auto-Owners, The Hanover and Travelers.
Auto-Owners maintained its top rank among insurers of commercial lines for a third consecutive year, scoring 847. Cincinnati Insurance (809) ranks second and The Hartford (792) ranks third. These results mirror those from 2022. Progressive moved from below the segment average in 2022 to the fourth spot in 2023.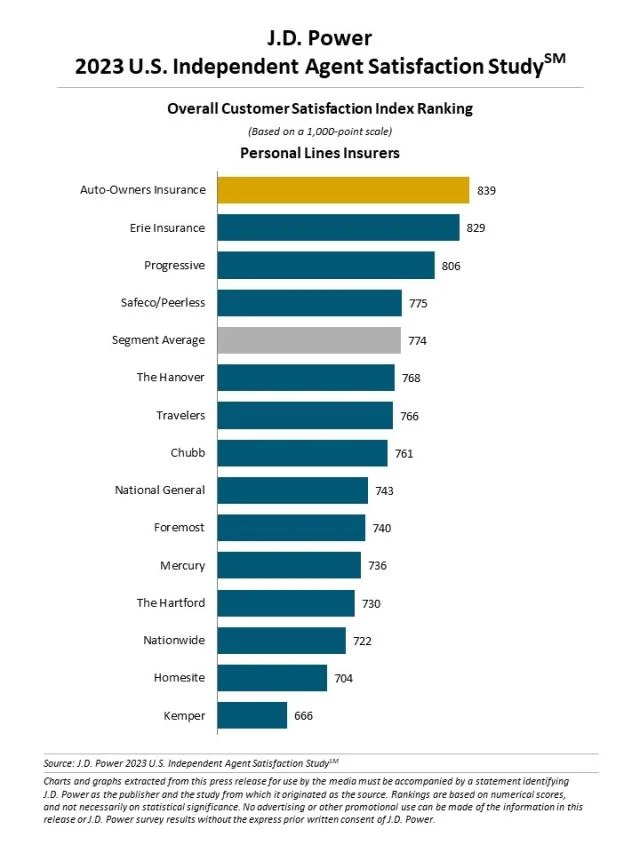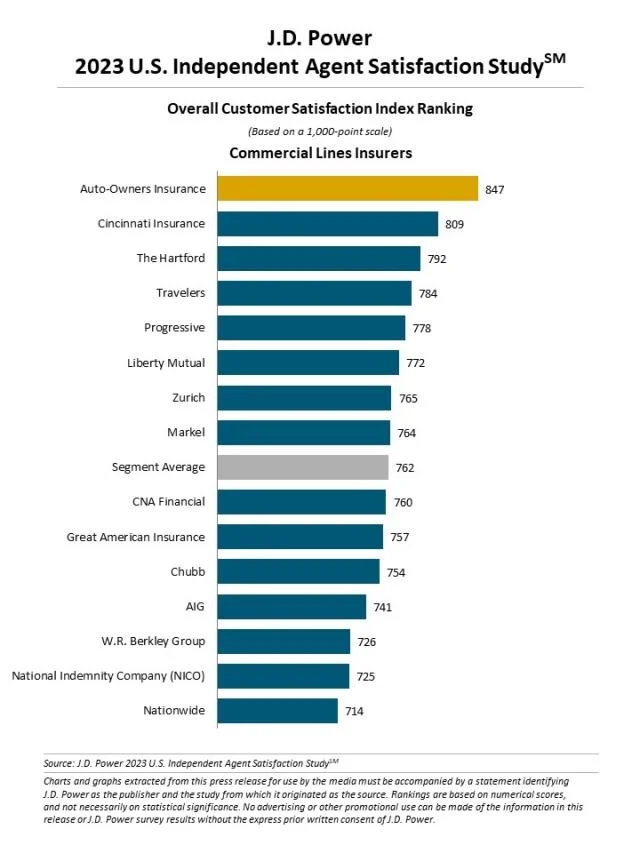 The study was developed with the Independent Insurance Agents & Brokers of America (IIABA). It evaluates the evolving role of independent agents in P&C insurance distribution, general business outlook, management strategy and overall satisfaction with personal lines and commercial lines insurers in the United States.
Was this article valuable?
Here are more articles you may enjoy.