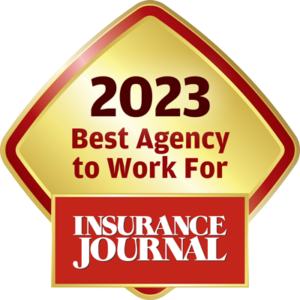 Mackoul Risk Associates with offices in both Morristown, New Jersey, and Long Beach, New York, lives and breathes the motto, "work hard and play hard."
As one employee wrote when nominating the agency for this year's annual Best Agencies to Work For award: "The term 'work hard, play hard' really applies to our company." The agency's incentives motivate employees to set goals, work hard to achieve those goals, and play hard year-round.
Monthly team building events, strong leadership, a family-like culture, and annual agency revenue goals that every employee in this 50-person independent agency aims to achieve led Mackoul to this year's Overall Best Agency to Work For award from Insurance Journal. Mackoul scored highest out of thousands of nominations from agencies nationwide. The award is based on employee responses to an online survey each year.
"No agency I have ever worked for has had the leadership Mackoul does," another employee wrote. "I am not a number here; I am a valued asset, and I am reminded of that daily."
Edward Mackoul, CEO, works hard to keep the agency a great place to work. So, too, did his father, Robert Mackoul, who founded the independent agency in 1987.
Edward says that creating a great place to work means recognizing the value employees bring to the organization's success. Employees seem to notice.
One employee wrote: "I truly have never felt so appreciated at a job before. Your work is recognized, you feel empowered to do your best and people are always willing to jump in to help. The culture of this agency is truly one of a family."
As an agency owner and leader, Mackoul says this type of recognition from employees is simply the best. "I am proud of all the awards we received but my favorite awards are the ones where employees nominate us," he said. "This really shows what kind of culture we have."
Edward Mackoul joined his father's agency in 1995. "We were a small agency," he said. "My father was a life insurance agent and sold life insurance and disability to doctors."
Those clients began to ask for more. "They said, 'why can't you insure our real estate or our cars, too?' And so we did."
See All Winners: Best Insurance Agencies to Work For
Today, the agency specializes in two primary niche markets: real estate and habitational, including co-ops and condos. While those two sectors represent about half of the agency's revenue, the agency continues to diversify into other areas, including high-net worth personal lines and benefits.
The insurance market for habitational and condo risks is difficult today and Mackoul knows those conditions have put added pressure on agency staff. "The hard market has been difficult, so we try to do as much as we can to help them," he said. Sometimes that help comes in the form of added bonuses or competitive compensation, and even trips, he said. "We set goals for growth, new business, retention, etc., and if we're doing well, then employees do well, too."

Aside from monthly team building events, all staff participate and contribute to meeting yearly revenue goals, Mackoul says. "If the agency meets that annual goal, the prize for all is big," he said. This past year, Mackoul staff met their annual goal and celebrated with an all-expense paid trip for every employee to Punta Cana, Dominican Republic. "It was about 60 of us … three nights, four days," Mackoul said. Those experiences over the years have built the agency's strong family culture, he says. "We have fun. The old work hard play hard certainly applies."
According to Mackoul, the agency has met its annual goal about 20 times in the past 28 years. "We've been to Jamaica several times, we've done cruises, we've done the Bahamas, and Aruba."
Another important factor in making a great place to work – be flexible and listen to employees, Mackoul says. Prior to the pandemic, some employees at Mackoul began to work from home. That's something that worked, he said. Today, the agency is 100% work from home but keeps a small office space equipped with workstations for those in need of meeting space.
"Our agency allows us to work remote full time, but sets up a fun team building event each month to get us all together," another employee said.
Most important, Mackoul says, is to treat employees well. "Make sure you pay them well, treat them well and give them the tools they need to be successful."
Was this article valuable?
Here are more articles you may enjoy.