The R Street Institute applauded the introduction today of S.B. 10, legislation to rein in the growth in Texas hail-related litigation.
The bill, sponsored by state Sen. Kelly Hancock, R-North Richland Hills, would provide revisions to Texas law, preserving the right to sue while removing incentives for attorney led abuse of the legal process, according to R Street Southwest Region Director Josiah Neeley.
"Trial attorneys are exploiting provisions in the law to run up large fee awards," Neeley said in a statement. "Insurance companies often don't even know there is an issue until a lawsuit is filed. Cases that should be resolved without litigation end up in a long and costly legal process."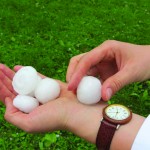 According to R Street, old provisions in state law that meant to ensure the prompt payment of claims are now having the opposite effect.
Companion legislation has been introduced in the Texas House of Representatives: H.B. 1774, sponsored by state Rep. Greg Bonnen, R-Galveston.
Was this article valuable?
Here are more articles you may enjoy.