The Oklahoma Workers' Compensation Commission (WCC) has named Sarah Greenwalt as the agency's new general counsel, effective June 25.
Greenwalt most recently served as senior counsel to the administrator of the U.S. Environmental Protection Agency in Washington D.C. She also has served as a law clerk at the U.S. Department of Veteran's Affairs, and assistant solicitor general and general counsel in the office of Oklahoma's attorney general.
As WCC's general counsel, Greenwalt will act as a legal advisor to the agency's three commissioners and will report directly to Commissioners Mark Liotta, Jordan Russell and Megan Tilly.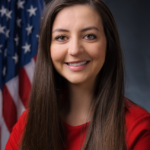 In addition to providing legal advice to leadership and all divisions of the WCC, Greenwalt will advise regarding the Oklahoma Open Meetings Act and process open record requests, oversee and advise on all contracts, and support the agency's regulatory functions including permitting services and the compliance division.
Source: Oklahoma WCC
Was this article valuable?
Here are more articles you may enjoy.