Oklahoma moved from No. 9 in the nation to No. 7 among states with the lowest percentages of structurally deficient bridges on the highway system in 2020, the state's transportation department reports.
Oklahoma was once near the bottom of the rankings, being as low as 49th place in 2004 when 1,168 of the 6,800 bridges or 17% of the structures maintained by the Oklahoma Department of Transportation were rated structurally deficient or poor.
Now, after a decade of continuous improvement, Oklahoma has only 67 structurally deficient bridges remaining on its system and keeps its Top Ten status, according to the latest inspection data from the Federal Highway Administration.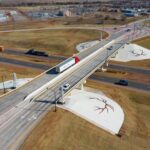 Additionally, none of the Oklahoma Turnpike Authority's 873 bridges on the toll road network are structurally deficient.
The 67 structurally deficient bridges are either currently under construction or scheduled in ODOT's Eight-year Construction Work Plan for replacement or major rehabilitation in the next few years.
Oklahoma Transportation will continue an aggressive bridge program to address the more than 1,000 bridges that are 80 years old while also adequately maintaining and preserving newer bridges to ensure Oklahoma maintains its Top Ten status.
This new No. 7 ranking applies to the bridges on Oklahoma's highway system maintained by the state, which includes interstates, U.S. highways and state highways.
Cities and counties are responsible for more than 16,000 bridges on local roads with other funding sources.
Source: Oklahoma DOT
Topics Oklahoma
Was this article valuable?
Here are more articles you may enjoy.