Georgia Insurance Commissioner Ralph Hudgens will not seek re-election for a third term as Georgia's Insurance and Safety Fire Commissioner, according to a statement from the Georgia Department of Insurance.
In a letter to Georgians, Hudgens announced his decision, saying "I am immensely grateful for the opportunity that the people of this State have given me to serve in this capacity, but I look forward to retiring from elected office to spend more time with my wife Suzanne, my four kids, and 12 grandchildren."
Hudgens, a Republican and small business owner, has a long history of politics in Georgia. He was elected as the Georgia Insurance and Fire Safety Commissioner in 2010, after serving as a state senator since 2002 and a member of the Georgia House beginning in 1996. He has served as chairman of the Georgia Insurance and Labor Committee and vice chairman of the Banking and Financial Institutions Committee.
Hudgens succeeded fellow Republican John Oxendine as insurance commissioner when he assumed office in 2011.
In 2014, he was reelected with 55 percent of the total vote, beating Democrat Elizabeth Johnson.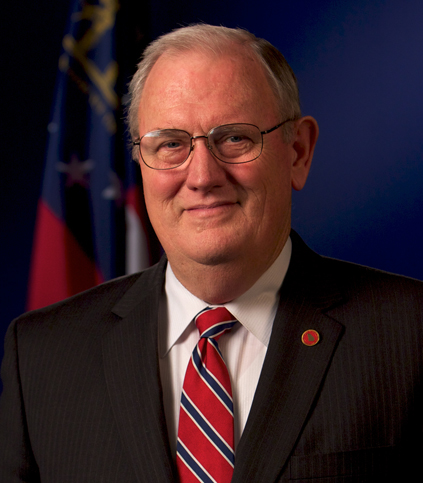 "I ran for Insurance Commissioner because I believed I could be an effective advocate for consumers. My office has helped consumers get payment after insurance companies originally denied claims and has aggressively pursued insurance fraud. I focused on those consumer protections while also working to make sure we had a competitive insurance marketplace," Hudgens said in his goodbye letter.
His duties as insurance commissioner include regulating approximately 1,600 insurance companies, licensing 137,000 insurance agents, and regulating over 1,000 industrial loan offices.
As safety fire commissioner, Hudgens appoints the state fire marshal, oversees the state arson unit, regulates explosive and hazardous materials, and is responsible for the inspection of public buildings for compliance with the state fire code. Hudgens was also a staunch opponent of the federal health care overhaul and its rollout.
In April of this year, the Atlanta Journal-Constitution reported that excessive spending in the insurance department forced Hudgens to lay off staffers and order others to take four unpaid furlough days over the following months. GADOI told the news outlet that criminal wrongdoing wasn't suspected in the shortfall, with Hudgens blaming it on "faulty information he was given by staffers about how much money was available to boost pay in his department."
"The department was losing employees to other state and local agencies because our salaries were not competitive," he said in a statement to the news outlet. "We performed a comparative job market analysis across state and municipal agencies and brought our employees' salaries up to a competitive rate over a period of 18 months.
"During this process, the in-house budget information I received about available funds was inaccurate, thus putting a strain on our budget," he added. "Like every household in Georgia, the department has to balance its budget, and we will do so this year."
A representative from the Governor's Office of Planning and Budget said in a statement to Insurance Journal in May that it had been notified by GADOI of the budget deficit and "their internal plans to implement corrective measures to prevent budgetary deficiencies in the current fiscal year and to prevent re-occurrence in future fiscal periods. Our office will continue to monitor their spending to ensure they will be in budgetary compliance by year-end."
GADOI didn't respond to multiple requests for comment from Insurance Journal on the matter.
Hudgens in his goodbye letter that he will "actively" serve out the year and a half that remains on his term.
"The Department has accomplished a lot, but there is still much to do," Hudgens wrote. "I will continue to work to protect Georgia consumers and make sure that Georgia remains a competitive place to do the business of insurance."
Hudgens said while he is retiring from elected political office, he intends to stay involved in politics.
Was this article valuable?
Here are more articles you may enjoy.