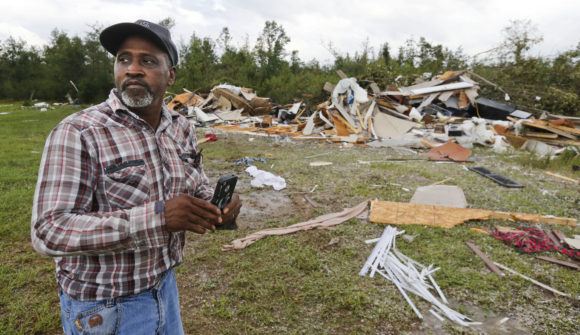 Harvey spread its misery across the Deep South as flooded creeks drove people from their homes in Tennessee and Kentucky and an apparent tornado damaged homes and toppled trees in a rural area of northwest Alabama.
More than 50 people were evacuated from a Nashville neighborhood due to flooding from Harvey, according to a statement Friday morning from the Nashville Of
fice of Emergency Management.
The agency said remnants from Harvey dumped nearly 9 inches (23 centimeters) of rain in some areas over a 24-hour period and crews responded to dozens of calls overnight requesting aid. About 40 people took refuge in a Red Cross shelter set up at a church.
Richard Williams said he and his wife were rescued from their home south of Nashville overnight. He told WTVF-TV that his wife had to be rescued from her hospice bed by raft.
"When I woke up, the water was up to my waist and up to my wife's hospital bed," Williams said.
By Friday morning, most streams in the Nashville area were returning to normal levels, emergency officials said.
Near Monteagle, northeast of Chattanooga in south-central Tennessee, Interstate 24 was shut down in both directions Friday after high winds knocked down powerlines across the highway. Traffic was backed up for miles.
Weather officials confirmed Saturday that three tornadoes touched down in Middle Tennessee as the remnants of Harvey barreled through the region.
A National Weather Service report says two tornadoes hit Nashville and one struck southwest Maury County on Thursday. No deaths or injuries were reported.
The Nashville tornadoes registered at 75 mph and 95 mph. Meteorologists said they damaged a warehouse, flipped over an 18-wheeler, removed part of a roof from a house and snapped or uprooted trees.
The 75-mph Maury County tornado ripped sheet metal from farm storage buildings.
Meanwhile, more than two dozen people were evacuated from homes Friday in the small south Kentucky town of Guthrie. Mayor Scott Marshall said authorities used boats to rescue people from eight to 10 homes. Some evacuees had health issues, including one man who was on kidney dialysis.
Marshall said 3 to 4 feet (1 to 1.2 meters) of water accumulated in a low-lying neighborhood. Two dozen homes and several businesses were affected. The mayor said the flooding "inundated our drainage system in that portion of town."
Marshall said it's the most significant flooding in the town of about 1,400 people since the late 1960s. Seven inches of rain had fallen in Guthrie as of Friday at 11 a.m., the National Weather Service reported.
To the northeast, in Russellville, Kentucky, Chief of Police Victor Shifflett said two people were evacuated from a home early Friday.
The rains also flooded low-lying streets in Memphis, as the western Tennessee city reported power outages late Thursday and rivers in the area swelled. Though it was still a tropical depression, Harvey also began shedding its tropical characteristics overnight as its rain bands extended farther across Tennessee and Kentucky on its forecast path toward the Ohio Valley.
Flood warnings remained in effect near rivers in western and middle Tennessee on Friday. Flash flood warnings also were in place for parts of Kentucky. Those came as the storm slogged deeper into the nation's interior after its catastrophic drenching of parts of Texas and Louisiana, where severe flooding was continuing.
In northwest Alabama, high winds damaged several homes near the city of Reform and minor injuries were reported, news outlets said. Jason Holmes, a meteorologist with The National Weather Service in Birmingham, said Thursday that a tornado was the likely cause of the damage.
Photographs published online by the Tuscaloosa News in Alabama showed huge trees splintered and toppled, houses with shingles torn away and one mobile home so shattered it was barely recognizable. Men with chain saws were clearing downed trees from roads after the storm passed.
Authorities said Harvey's remnants contributed to the death of a motorist in a head-on crash with a tractor-trailer Thursday on Interstate 40 in Memphis. The motorist's name was not immediately released.
In western Tennessee, flood warnings were in effect along or near several rivers, including two leading tributaries of the Mississippi River. Forecasters said some spots in Tennessee got nearly 10 inches (25 centimeters) of rain, though most areas received between 2 inches and 8 inches (10 to 20 centimeters).
___
Associated Press reporters Rebecca Yonker and Erik Schelzig contributed to this report.
Copyright 2021 Associated Press. All rights reserved. This material may not be published, broadcast, rewritten or redistributed.
Was this article valuable?
Here are more articles you may enjoy.