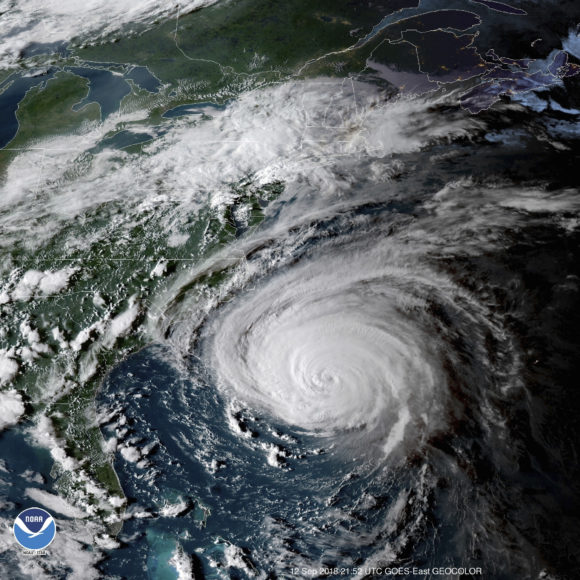 Insurance industry losses from Hurricane Florence, which hit the Carolinas mid-September as a Category 1 storm, will be manageable and not have a severe impact on insurers, according to experts.
As the storm turned out to be less of a wind event and with flood excluded on most homeowners policies, it is expected insurers will not experience the significant losses that were initially feared. However uninsured flood losses could cost nearly $20 billion, by some estimates.
"All indications we have seen is [Florence] was more of a flood event than wind issue," said Brian O'Neill, exectuive vice president for JLT Re's National Catastrophe Practice.
According to Fitch Ratings, wind speeds from Florence diminished as the storm approached the U.S. coast and Florence was downgraded to a Category 1 hurricane before making landfall in North Carolina on Sept. 14. Fitch said the level of wind related damage to property is expected to be modest as a result of the significant decline in wind speeds, limiting losses to primary property insurance writers.
Catastrophe modeling firm AIR Worldwide estimated that industry insured losses from Florence's winds and storm surge will range from $1.7 billion to $4.6 billion. Losses include downed trees that caused damages to homes and automobiles, downed utility poles, and shingle loss with isolated cases of more extensive roof damage.
Karen Clark & Co. said it expects insured losses from Hurricane Florence will reach $2.5 billion. That estimate includes insured losses to residential, commercial and industrial properties.
CoreLogic said Monday it estimates wind losses will total between $1 billion and $1.5 billion.
State Farm, the number one insurer in both North and South Carolina, said in North Carolina it has received approximately 2,280 auto claims totaling about $2.5 million, and approximately 15,000 homeowner claims totaling $2.7 million related to Hurricane Florence as of Sept. 24.
In South Carolina, State Farm had received approximately 560 auto claims and 1,800 homeowner claims. The insurer has paid approximately $749,000 in homeowner claims and approximately $498,000 in auto claims, so far. It expects these numbers will increase as customers discover and report claims/damage.
North Carolina Insurance Commissioner Mike Causey said the North Carolina Joint Underwriting Association, the state's insurer of last resort, had received 50,000 claims so far.
"From a property insurance point of view [Florence] is insignificant," said Gary Marchitello, head of Property Broking for Willis Towers Watson. "Clearly from a number magnitude, dollar magnitude it is not going to be significant at all to the insurance industry."
Fitch Ratings said it expects limited or no rating actions for the private insurance industry from Florence.
Analyst firm Keefe, Bruyette & Woods (KBW) said primary insurers will have "meaningful Florence exposure, but losses should be absorbed within 3Q18 catastrophe provisions."
Because of improvements in catastrophe modeling, Marchitello noted that "it's becoming increasingly unlikely that a weather event or geological event would catch insurers off guard."
Flood Losses
Fitch noted that flood losses will significantly contribute to overall losses from Florence as storm surge and historic levels of rainfall inundated coastal areas as well as a significant number of inland counties, but most of these losses will be incurred by the National Flood Insurance Program or are uninsured.
The slow-moving storm stalled over the Carolinas bringing as much as 40 inches of rain in some parts. AIR said preliminary reports from the National Weather Service noted more 35.93 inches fell in Elizabethtown, N.C., breaking the record set by Hurricane Floyd in 1999, and more than 30 inches of rain fell on Swansboro, N.C. Many other locations received more than 20 inches.
For many residents in the Carolinas, flood losses from Hurricane Florence will be uninsured as standard homeowners insurance policies typically do not cover the peril. The take-up rate for coverage from the NFIP is low. CoreLogic noted that NFIP insures a total of 445,000 residential and commercial policies in North Carolina, South Carolina and Virginia, which was also impacted by the storm.
Just over 134,000 homeowners in North Carolina have insurance through the NFIP, according to North Carolina Insurance Commissioner Causey.
"I was very disappointed by the small number of flood insurance policies in force in North Carolina," Causey said. "We certainly have much more water damage than wind damage, and unfortunately, these people that think they may have coverage when they file those homeowners claims are going to find out floods aren't covered."
The take-up rate of flood coverage commercially is much higher, said Marchitello, as companies buy some degree of coverage but that is usually subject to a sublimit.
CoreLogic estimated total flood losses for residential and commercial properties in the Carolinas and Virginia will be between $19 billion and $28.5 billion. The catastrophe modeling firm said about 85 percent of the residential flood loss is uninsured and is estimated to total between $13 billion and $18.5 billion. Insured flood loss covered by the private insurance market will total about $4.5 billion to $7.5 billion in North Carolina and about $1 to $2 billion in South Carolina, CoreLogic said. Its analysis includes residential homes and commercial properties, including contents and business interruption and does not include broader economic loss from the storm.
Neither AIR or KCC included NFIP flood losses in their loss estimates.
Causey said the NFIP had received 10,000 claims in the state and paid out about $10 million to date.
Losses could still increase as rivers continue to rise more than a week after Florence, with evacuations still being ordered in North and South Carolina over the weekend. The Associated Press reported that North Carolina Gov. Roy Cooper said that nine of the state's river gauges were at major flood stage and four others were moderate stage as of Sept. 22, while parts of Interstates 95 and 40 will remain underwater for another week or more.
Economic Losses
AP said an economic research firm estimated that Hurricane Florence has caused around $44 billion in damage and lost output, which would make it one of the top 10 costliest U.S. hurricanes. The top disaster, Hurricane Katrina in 2005, cost $192.2 billion in today's dollars, while last year's Hurricane Harvey cost $133.5 billion.
Moody's Analytics estimates Florence has caused $40 billion in damage and $4 billion in lost economic output, though the company stressed that the estimate is preliminary and could go higher or lower, AP said.
In South Carolina, the AP reported crop damage was estimated at $125 million so far, according to Gov. Henry McMaster.
North Carolina likely won't have preliminary crop damage estimates until the end of the next week, state Agriculture Commissioner Steve Troxler told the AP. Five of North Carolina's top six farming counties are within the hardest-hit areas in the eastern part of the state.
"I think it's easily going to be in the billions of dollars," Troxler said in an interview with AP, calling the damage "catastrophic" and "unbelievable."
South Carolina Gov. McMaster has estimated damage from the flood in his state at $1.2 billion, AP said.
Was this article valuable?
Here are more articles you may enjoy.