Agents in the Fraud Investigations Division at the Georgia Department of Insurance made 8 arrests as a part of an insurance fraud round up, according to a statement from GADOI.
The round up consisted of several raids around the state with the assistance of local agencies. The eight individuals arrested recently face a total of 22 felony charges.
The following individuals were arrested by the Fraud Investigations Division between June 16 and June 26: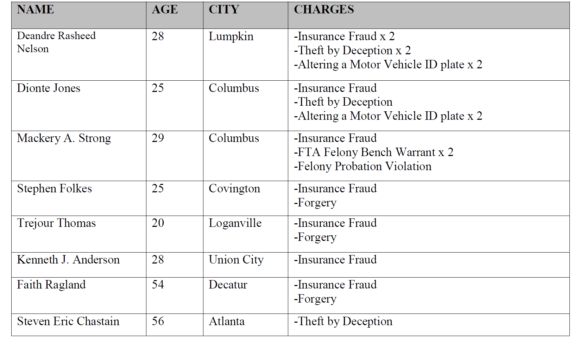 Nelson, Jones, and Strong are accused of altering VIN's on cars, obtaining insurance on those cars, and then staging accidents or pawning them. Folkes and Thomas are accused of submitting false medical bills after an accident to receive more money on a claim. Chastain is a public adjuster accused of stealing a $204,000 claim after a victim's house burnt down.
Agents said June 26 they planned to arrest five additional individuals as a part of the round up. The state Fire Marshal's Office, Loganville P.D., Atlanta P.D., Rockdale Co. Sheriff's Office, DeKalb Co. Sheriff's Office, Cobb Co. P.D., Muscogee Co. Sheriff's Office, Fulton Co. Marshal's Office, and Union City P.D. assisted with the arrest of these individuals, who are to be presumed innocent until proven guilty.
Insurance fraud is a felony punishable by imprisonment for two to ten years, or by a fine of up to $10,000, or both.
Source: Georgia Department of Insurance
Was this article valuable?
Here are more articles you may enjoy.