Appalachian Underwriters, Inc. (AUI) has added William Chambers as director of Digital Partnerships.
Chambers comes to AUI with over 5 years of experience in the insurance industry, with former roles in underwriting and digital partnership management at a leading specialist insurer. While managing digital partnerships, he was directly involved in implementing third party technologies and leveraging homegrown capabilities to grow the company's online small business program across multiple distribution channels.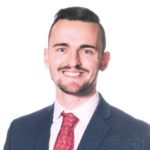 In this newly developed role, Chambers will build out Appalachian's digital partner strategy, from a distribution and vendor perspective, in order to provide a more automated, simplified and competitive offering for AUI's appointed agents.
According to Bob Arowood, principal of AUI, the new position will work to grow insurtech carrier partnerships and enhance its marketing and capabilities of each online service.
Appalachian Underwriters, Inc. is a full-service MGA and wholesale insurance brokerage, providing independent agents a national outlet to multiple specialized markets for workers' compensation, commercial specialty, and personal lines of insurance.
Was this article valuable?
Here are more articles you may enjoy.