The Georgia insurance commissioner is publicly shaming one of the country's largest auto insurers after the carrier announced an average 25% rate increase in the state.
"I am angry and disappointed that Allstate has chosen to exploit a loophole in state law to implement such a substantial increase in costs on hardworking Georgians when families are already struggling with historic inflation everywhere, from the gas pump to the grocery store," Commissioner John King said in a statement posted last week.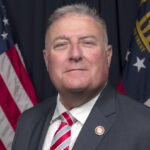 King said the "file and use" action, as it's known in Georgia, lets Allstate move ahead with premium increases on about 300,000 drivers before his office reviews the plan. It's at least the second time this year for Allstate, which, like other insurers, has said it is adjusting to rising costs for cars and car repairs.
"This latest increase means Allstate has now bypassed our office to raise overall rates in Georgia by 40% in this calendar year alone," King said.
The $188 million Allstate increase has so incensed the commissioner that he said he's begun conversations with legislative leaders on changes to state law to give his office additional authority to prevent some rate hikes.
Under Georgia's file and use mechanism, the increase takes effect soon – Sept. 12 for new policyholders and Oct. 16 for renewals. But the Office of Insurance Commissioner can later review it for actuarial soundness, said Weston Burleson, the office's director of communications and legislative affairs. Regulators may hold a hearing and can ultimately reduce or reject the increase.
Since 2001, the Georgia office has negotiated down about 50 rate increases, but has not rejected any file-and-use increases, Burleson said.
Allstate issued its own statement last week, noting that the company lowered its rates last year when many other insurers were raising theirs.
"Though inflation, more frequent and severe accidents, costlier repairs, and other factors have been causing auto rates to go up, customers will continue to get competitive prices with Allstate and can save money for driving safely using Drivewise," the statement reads, referring to Allstate's driving habit-measuring program.
King encouraged drivers affected by the rate increases to "reach out to Allstate to discuss the reasons for the increase and the options available to them," and posted the carrier's phone number on the insurance department website.
In 2016, the Georgia insurance commissioner at the time, Ralph Hudgens, issued a similar consumer alert and vowed to investigate after Allstate filed for a statewide increase of 25% on auto rates.
Allstate this month was ranked as fourth-largest auto insurer in the U.S. by ValuePenguin and LendingTree, with $26 billion in premium written. The company announced earlier this month it was accelerating premium increases after second-quarter losses.
Topics Trends Auto Pricing Trends Georgia
Was this article valuable?
Here are more articles you may enjoy.