New

You can now listen to Insurance Journal articles!
A south Florida jury has awarded $5.5 million to a woman who sued her condominium association after years of water infiltration and mold that the woman blamed for the death of her longtime domestic partner in 2021.
The Broward County jury found that Ever April Apartments in Pompano Beach had failed to remediate the mold and water damage, causing harm to resident Cheryl Jakab.
Her lawyer, Robert McKee, of Davie, Florida, told the South Florida Sun Sentinel newspaper that the evidence from unrepaired water leaks, through exterior walls and into the apartment, was substantial. At one point, a hole was punched into Jakab's wall and water came pouring out, he said.
An environmental testing firm hired by Jakab found "significant airborne concentrations of harmful mold spores," the lawsuit complaint reads. "Defendant still did nothing."
The plaintiff said she repeatedly notified the apartment management about the problems. In 2021, her partner, Joao Rodrigues, died.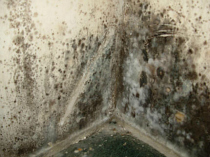 "Rodrigues died due to the inability to fight his brain cancer which arose during the exposures," the suit argued. "The exposures arose in substantial part due to exposures within the premises on good and products intended for bodily consumption, including air, water, food, furniture and other exposure sources."
The couple had lived in the unit since 1996.
The lack of repairs breached the apartment's contract with its co-op owners, the complaint reads. Jakab will require medical monitoring for years due to the mold, it notes.
Jakab eventually found new living arrangements, in another unit in the building, but had to expend considerable sums on that and on remediation after the damage was first noted in 2020, notes the complaint, which had asked for more than $30 million in damages. The apartment complex is a cooperative association. Unlike a conventional condo association, in which residents own their units, a co-op allows residents to own a share of the property, the newspaper reported.
An answer to the complaint by the defendants was not available in the court file. The court documents also do not indicate how the apartment owners may be insured. No insurer was named in the court record, and Ever April has not filed suit against an insurance carrier in Broward County.
Jakab's attorney told the newspaper that he hopes the verdict will remind homeowner associations that they are obligated to maintain their buildings and protect residents.
Topics Florida
Was this article valuable?
Here are more articles you may enjoy.