This year six agencies in all received top honors as a Best Agency to Work For. The Best Agencies to Work For in 2012 include: Bryan Insurance Agency, Graham, Texas; Meyer & Cook Insurance, Walnut Grove, California; Walker Myers Insurance & Risk Management, Austin, Texas; Herbie Wiles Insurance, St. Augustine, Florida; Hausmann-Johnson Insurance, Madison, Wisconsin; American Insurance Services, Clark, New Jersey.
Insurance Journal wishes to thank the many customer service representatives, account executives, producers, managers and other agency staff who took the time to nominate their independent insurance agency in this year's survey.
A Place Where All Work Together
---
Walnut Grove, California
Meyer & Cook Insurance
---
A nice office view, lots of raises — and a Costco membership. Those are the keys to making employees happy. And those are among the reasons Meyer & Cook Insurance was selected as the Best Agency to Work For in the West in Insurance Journal's 2012 survey.
Meyer & Cook is a small agency in Walnut Grove, Calif., with an office in a historic building that overlooks the Sacramento River. Being in the California Delta, the agency handles a great deal of agricultural clients, offering products for crops, workers' compensation, coverage for trucks, tractors and equipment, as well as personal lines.
Employees who offered opinions on the agency talked up several positive aspects of Meyer & Cook, with perks that include: "membership to Costco and Sam's Club," wrote one employee who took the survey.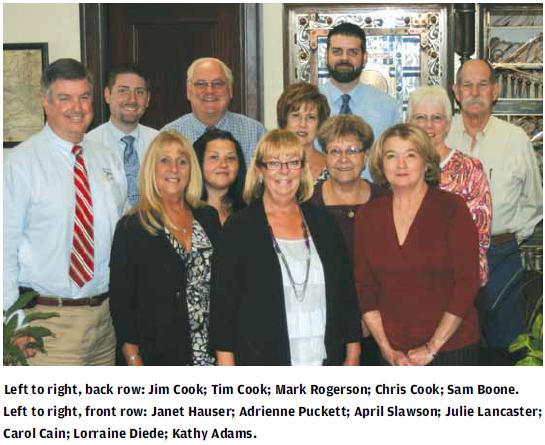 In simple terms, the management mindset at the 90-year-old agency follows the "do unto others" Golden Rule, resulting in happier employees and happier customers, says James Cook, majority owner and manager of the agency.
"It's a team concept at the agency. We're all in it together," says Cook, who refers to his employees as "the greatest asset that the agency has."
The agency was started in 1922 by Myron Brown, and after World War II it became Brown & Meyer. In the 1960s, it became Brown, Meyer & Tranum. In 2000, they formed an LLC and became Meyer & Cook LLC.
The pro-employee environment has been built upon by agency principals and leaders.
"I was an employee myself for a long time," the 55-year-old Cook says. "I've been on that side. You always feel you treat people with respect, they treat you with respect."
Things like employee pay increases even during tough times are signs of good leadership that employees recognize and respect.
"Reviews are annual and on-time," wrote one employee. "Not just a new title given at review, but increase in annual income. The agency shares in its growth."
Evidently, the agency and its employees also believe in sharing with the community.
"Four of our team are actively involved in our local Rotary Club," wrote one employee. "One of our crew is a fire commissioner of our local fire district, and another employee is a volunteer firefighter who regularly leaves his desk to fight fires and provide medical aid. We have the past president and founder of the local Chamber of Commerce. Another sat on and chaired the local redevelopment target area committee and is responsible for our beautiful community dock. Our agency has always supported these employees with paid time off to attend the myriad of meetings and fire calls, and … encourages us to participate in community service."
In almost every rating category, employees scored the agency as "excellent."
Cook chalks that up to incentives, which he says pay off in the long-run.
"We give new business production bonuses," Cook says. "If you meet a certain production goal, you get a cash award."
Agents also get a percentage of the new business that they write. And the agency offers numerous benefits, such as picking up the cost of health benefits for employees and their families. "We pay 100 percent," Cook says of the health plan.
Other employee benefits include: health savings accounts, vision care, dental, long-term disability, group life, a cafeteria plan, payment of service club dues, gas cards, profit sharing, Christmas bonuses and up to four weeks of vacation for those who have stayed with the company for a while.
And employees do tend to stick around. Several have been with the agency 35 years or more. Cook started there 32 years ago.
The upside of this pro-employee philosophy? "I get happy employees, I hope," Cook says, adding, "I get happy customers."
He notes the firm's retention rate is in the high 90th percentile, which he attributes to employee retention. That, in turn, leads to institutional knowledge of
customers.
"We know our insureds," he says.
Employees also have a thorough knowledge of what may be considered by some to be small potatoes — but they are important at Meyer & Cook.
"They know what various pieces of farm equipment do, what crops the clients grow, the times of season for certain crops, so we don't hit them in the middle of harvest time," Cook says.
Other Best Agencies to Work For in 2012 include:
Best Overall Agency to Work For: Bryan Insurance Agency, Graham, Texas
South Central: Walker Myers Insurance & Risk Management, Austin, Texas
Southeast: Herbie Wiles Insurance, St. Augustine, Florida
Midwest: Hausmann-Johnson Insurance, Madison, Wisconsin