This year six agencies in all received top honors as a Best Agency to Work For. The Best Agencies to Work For in 2012 include: Bryan Insurance Agency, Graham, Texas; Meyer & Cook Insurance, Walnut Grove, California; Walker Myers Insurance & Risk Management, Austin, Texas; Herbie Wiles Insurance, St. Augustine, Florida; Hausmann-Johnson Insurance, Madison, Wisconsin; American Insurance Services, Clark, New Jersey.
Insurance Journal wishes to thank the many customer service representatives, account executives, producers, managers and other agency staff who took the time to nominate their independent insurance agency in this year's survey.
Right People, Right Fit Makes a Great Place
---
Austin, Texas
Walker Myers Insurance
---
Starting a new business in a healthy economy is a challenge. Starting a new business — and succeeding — in a difficult economy is next to impossible. Yet that's what Austin, Texas-based Walker Myers Insurance & Risk Management LLC has done while creating an environment its employees believe is a great place to work. This 20-employee independent insurance agency was named this year's Best Agency to Work for in the South Central region by Insurance Journal in 2012.
Walker Myers opened its doors a year and half ago with a vision of becoming a large-account commercial lines agency served by some of the insurance industry's best younger talent, says Todd Thomas, president and executive partner, who started the agency with the Scott Carrigan, vice president.
"That was the catalyst for starting our own firm," says 28-year-old Thomas.
Thomas previously worked at Wortham Insurance, a nearly 100-year-old insurance brokerage with 500 employees. Carrigan also came from a large, independent agency. He left Swantner & Gordon (now Higginbotham Insurance) to found Walker Myers.
The decision to start a new agency didn't come quick. "We didn't just start our own firm to start our own firm," Thomas says. "We wanted to be the best and have best practices. … When we first started, our belief was that independent agencies don't always build themselves around A-players."
But the key to a happy workplace setting is hiring the right people for the right positions, Thomas says. "We are cognizant of how employees fit into our team because unlike a lot of places that talk about a team approach, we rely on it because of our size."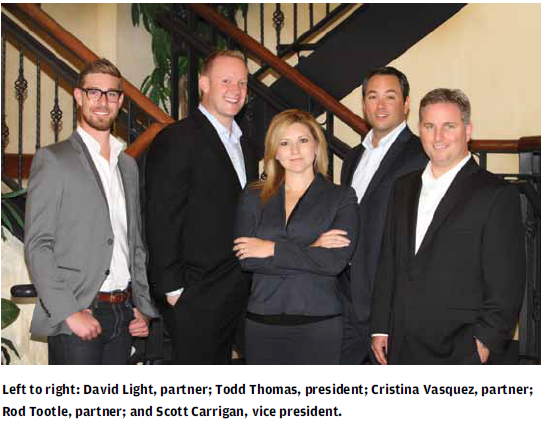 Thomas believes that the reason his firm's employees are happy has a lot to do with its people and leaders.
"It's youthful, there's energy to what we are doing, and there are new ideas and concepts," he says.
One example, is how Walker Myers built its operations around technology to make doing business easier and faster for employees and customers.
"Because we are a new firm, we could build our firm around technology that other firms … had to interject or force into their model," Thomas says. "Most agencies were built when there wasn't Internet or email, and you didn't have agency management systems … We could start from the ground up with some of those efficiencies."
Despite Walker Myers' youth, there have been few growing pains. As one employee said in Insurance Journal's survey, "We are well-staffed, well-trained, and have good, experienced producers … Above all it is just a fun place to work."
The average age of Walker Myers' workforce is around 36 to 37 years old, which has led to a high-energy environment with highly motivated employees, Thomas says.
"We are young, fun, smart, creative, and everyone enjoys coming to work," one employee wrote. "We are encouraged to express our ideas and concerns freely. The partners in the company are knowledgeable of the industry, as well as have wonderful business and financial skills. I respect everyone I work with and like them."
Thomas says many agencies are facing retirement and perpetuation issues. "When you don't have that retirement on the horizon and you are all trying to build together under that team approach, everyone gets excited."
The agency treats everyone as equals, which is another reason why Thomas thinks employees like their jobs.
"They (support staff) are the face of our organization," Thomas says. "They are dealing with clients on a daily basis, and sometimes they can be more important than a producer." That's why Walker Myers' support staff work in the window offices, he says. "They can actually see the sunshine, and for us, that's gone a long way in terms of morale and just keeping people happy."
One agency employee said: "You are not treated like an assembly line worker."
While the agency is a newbie, it's growing at a healthy pace. In its first six months of operation, Walker Myers wrote more than $1 million in new business commission.
In 12 to 24 months, Thomas expects Walker Myers to open at least two offices. The firm currently operates offices in Austin, San Antonio and Corpus Christi, Texas.
Finding the right talent while in "growth mode" will be important, Thomas says. "We have made that our mission."
Other Best Agencies to Work For in 2012 include:
Best Overall Agency to Work For: Bryan Insurance Agency, Graham, Texas
West: Meyer & Cook Insurance, Walnut Grove, California
Southeast: Herbie Wiles Insurance, St. Augustine, Florida
Midwest: Hausmann-Johnson Insurance, Madison, Wisconsin
Was this article valuable?
Here are more articles you may enjoy.