This year six agencies in all received top honors as a Best Agency to Work For. The Best Agencies to Work For in 2012 include: Bryan Insurance Agency, Graham, Texas; Meyer & Cook Insurance, Walnut Grove, California; Walker Myers Insurance & Risk Management, Austin, Texas; Herbie Wiles Insurance, St. Augustine, Florida; Hausmann-Johnson Insurance, Madison, Wisconsin; American Insurance Services, Clark, New Jersey.
Insurance Journal wishes to thank the many customer service representatives, account executives, producers, managers and other agency staff who took the time to nominate their independent insurance agency in this year's survey.
Strength of Family Helps Agency to Flourish
---
Clark, New Jersey
American Insurance Services
---
When you walk into the offices of American Insurance Services in Clark, N.J., you may be forgiven for mistaking it for an extended family reunion.
"The benefit of a family-like environment is offered here. I treat my employees like family, and we treat our customers the same way," says Nick San Filippo, who started his property/casualty insurance agency 36 years ago.
The family-like atmosphere is a primary reason American Insurance Services was voted on by its employees as Insurance Journal's Best Agency to Work For in the East in 2012. The family-like atmosphere also is the reason the agency is flourishing. American Insurance now has 24 employees and more than $30 million in written premiums, and business continues to expand.
"Our President Nick San Filippo treats us all like members of his own family. This act is contagious, and we reciprocate that respect, care, and service to all our clients," explained one staff member.
A common theme from the employees' evaluations of their agency was how enjoyable they said it is to come to work.
"It is a pleasure to come to work," an employee said. "I like working here, because I can be myself and can express my thoughts, and know that my ideas are listened to, regardless of my position in the company. I also enjoy the people that I work with and know that together we work well as a team."
When asked about the agency's enjoyable work atmosphere, Dawn Law, the agency's vice president who is in charge of operations, says, "you have to make employees want to be here." For example, the agency is parent-friendly, she notes, providing young parents with adjustable work schedules to accommodate their work and family obligations. "We are very family-oriented."
The flexibility afforded to employees is a result of mutual respect, Law says. "The main thing you have to do is show your staff respect," she says. "There is a human side to work[ing] here — I guess that's what it comes down to. It's not just a job. We hope it's a career for the employees. And we hope they end up feeling like we are a family, because that's what we are. Managers have to be responsible, respectful and professional — and believe in their employees."
Law says the agency's employees know their jobs, work hard and respect one another. "Everyone works hard and they enjoy what they are doing. We would like people to come to work and feel like they are the owners, like they own their work."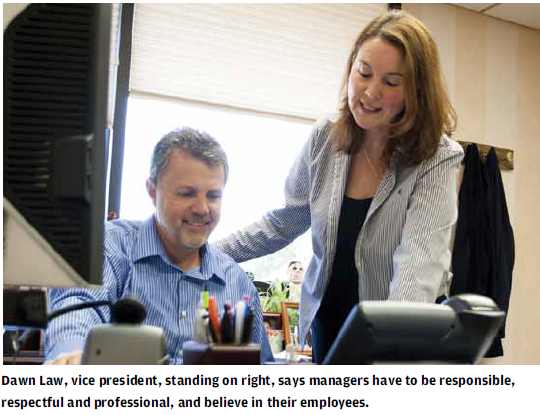 The agency also tries to empower its staff by providing the latest technologies and social media platforms available. Within the previous 10 years, the agency upgraded its technology, San Filippo explains. "All of our CSRs went from working on one computer monitor to three monitors for maximum processing efficiency," he says.
When employees receive a call or call transfer, their computer monitors will notify them about the caller, along with the customer file information. This information can then be transferred to other CSRs in the office via their direct telephone extensions.
San Filippo says a paperless work environment — where CSRs can download PDF faxes, scans, and emails with the click of a button — means employees can access any information at their fingertips.
The agency utilizes social media platforms to generate new business and employs two social media staff to serve as the voice of American Insurance Services.
"We now have a large online presence across multiple social media outlets that generate new leads daily," San Filippo says. "We've created a very popular New Jersey community blog that we use to interact with our local businesses and customers every day," he says.
To further motivate employees, the company offers competitive salaries and benefits, as well as an incentive plan in which employees can earn extra money.
"[For] anyone that sells any kind of insurance policy, for any reason, even if a staff just answers the phone and someone says they want to buy car insurance, we pay the staff who writes that policy a percentage of the agency commission," Law says. "It adds up. I have people that make anywhere from $100 a month, and sometimes I have incentive checks that are well over $1,000."
Other Best Agencies to Work For in 2012 include:
Best Overall Agency to Work For: Bryan Insurance Agency, Graham, Texas
West: Meyer & Cook Insurance, Walnut Grove, California
South Central: Walker Myers Insurance & Risk Management, Austin, Texas
Southeast: Herbie Wiles Insurance, St. Augustine, Florida
Was this article valuable?
Here are more articles you may enjoy.