California Gov. Jerry Brown on Friday proclaimed a state of emergency and directed state officials to take all necessary actions to prepare for drought conditions.
"We can't make it rain, but we can be much better prepared for the terrible consequences that California's drought now threatens, including dramatically less water for our farms and communities and increased fires in both urban and rural areas," Brown said in a statement. "I've declared this emergency and I'm calling all Californians to conserve water in every way possible."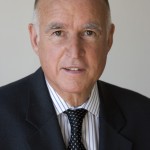 In the state of emergency declaration, Brown directed state officials to assist farmers and communities that are economically impacted by dry conditions and to ensure the state can respond if Californians face drinking water shortages. Brown also directed state agencies to use less water and hire more firefighters.
Brown also initiated an expanded water conservation public awareness campaign.
State water officials say that California's river and reservoirs are below record lows. Manual and electronic readings record the snowpack's statewide water content at about 20 percent of normal average for this time of year.