More than 100 passengers have contracted the contagious norovirus on a ship touring the California coast, however the cruise line said Thursday it doesn't plan to end the voyage early.
Some 104 passengers and 25 crew members on the Crown Princess had been infected by the cruise's fifth day, but fewer than 15 were still complaining of the gastrointestinal symptoms that come with the virus, Princess Cruises spokeswoman Karen Candy said.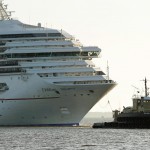 Fifty people have been quarantined in their cabins because they could still be contagious.
The Crown Princess is on a seven-day cruise from Los Angeles that included stops in San Francisco and Santa Barbara. The ship was in San Diego on Thursday and is scheduled to return to LA on Saturday.
Copyright 2020 Associated Press. All rights reserved. This material may not be published, broadcast, rewritten or redistributed.
Was this article valuable?
Here are more articles you may enjoy.