Edgewood Partners Insurance Center named Michael Gonthier chief financial officer.
Elaine Andrian, EPIC's current CFO, will now focus on merger and acquisition strategy and diligence.
Gonthier will be responsible for overseeing all finance and accounting, human resources and information technology functions across the organization. Additionally, Gonthier will provide support to the firm's managing principals and branch leaders by assisting them with financial planning and economic modeling. Gonthier will also oversee all fiscal and fiduciary responsibilities for EPIC.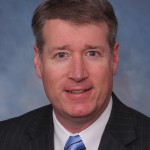 Gonthier has more than 20 years of experience in operations, information technology, finance and administration. Prior to joining EPIC, Gonthier served as senior vice president and chief operating officer since 2008 for Crump Insurance Services. Gonthier also held the titles of vice president and finance division CFO for BISYS Insurance Service and vice president of corporate service for BISYS Group Inc.
EPIC has more than 450 team members operating from nine offices across California: Los Angeles; Irvine; Inland Empire; Fresno; Folsom; San Francisco; San Mateo; Petaluma; and San Ramon. EPIC also has offices in Atlanta, Boston, Chicago, Denver and New York.
Was this article valuable?
Here are more articles you may enjoy.