The California Earthquake Authority reported Tuesday it has paid numerous claims for damage to homes that sustained "relatively minor damage" from the magnitude 5.1 earthquake that struck La Habra on March 28.
Most CEA claim payments to date from the shake in the Orange County city are to help cover costs for emergency repairs, according to CEA, which touted its new feature in homeowners policies that does not require meeting a deductible to receive payment.
According to CEA officials, home insurance companies that offer CEA polices have responded to hundreds of calls from California residents asking if they have coverage for earthquake damage.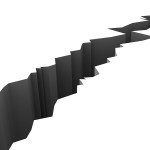 "Home insurance policies do not cover earthquake damage," CEA CEO Glenn Pomeroy said in a statement. "Without a separate earthquake-insurance policy, California residents with earthquake damage will be responsible for costs to repair or rebuild their homes, and to replace their personal property."
Pomeroy last week said the amount of visits on CEA's website rose dramatically after the La Habra quake, and that he expected thousands of policies to be sold to homeowners who were reminded they live in earthquake country.
Many claims filed after the La Habra quake were denied because many of those residents did not have separate earthquake insurance policies, while other claims were denied because damage did not exceed their coverage deductibles, according to CEA.
California has two-thirds of the nation's earthquake risk, yet fewer than 11 percent of California residents have protected their household finances with earthquake insurance, according to the California Department of Insurance.
Was this article valuable?
Here are more articles you may enjoy.