U.S. railroad company Union Pacific Corp said on Monday that a rail line on which a train derailed near the town of LaSalle in northern Colorado was back in service.
The train, which was heading to an East Coast destination, spilled 5,300 gallons of oil on Friday morning.
The line, which is used about once a day, connects Windsor, where the oil originated, and other towns in the Niobrara oil shale formation in northeastern Colorado.
Over the past several months, the industry has been under heightened government scrutiny due to an increase in train derailments involving oil tank cars. The amount of oil moving by rail from shale formations has risen sharply because the region is not well-connected to pipelines.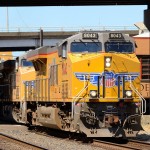 Mark Davis, a spokesman for Union Pacific, said there were no injuries in the derailment and the rail line was back in service by Saturday evening. He did not know who owned the oil or its exact destination.
He said six of the train's 100 cars derailed. Only one car leaked. Each car can hold about 28,000 gallons of oil, he said. No oil reached the South Platte River located near the town of LaSalle.
(Reporting by Scott DiSavino; Editing by Jeffrey Benkoe)
Was this article valuable?
Here are more articles you may enjoy.