Several ongoing fires around San Diego, Calif. that started early in the week have destroyed at least eight homes, an 18-unit condominium complex and two businesses.
The fires have burned more than 10,000 acres, and are being battled by more than 2,600 firefighting personnel, according a fire summary update issued by Cal Fire on Friday.
More than nine fires blazed at one point during the week, but that number has been reduced to eight fires. Large fires in San Marcos and Carlsbad forced thousands to evacuate, but evacuation orders lifted on Thursday.
Two fires were ongoing at Camp Pendleton Marine Corps Base, including one that broke out Thursday and grew overnight from 600 acres to 8,000 acres.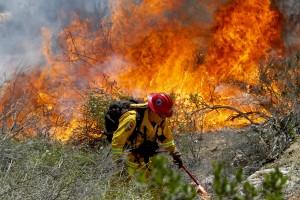 Amid a heat wave that sent temperatures throughout Southern California into the 100-degree range and gusty winds, firefighters continued to battle the fires around San Diego that have reportedly caused more than $20 million in damage.
The causes of several of the blazes are under investigation.
Persistent drought conditions over the Western U.S. have caused some experts to express concerns that this year could be the year of the next mega fire for California, with incidents similar to 2007 and 2003 in which hundreds of thousands of acres were burned and several thousand homes were destroyed.
The cost of an early wildfire season may rise as high as $1.8 billion, or nearly $500,000 more than what's available to control the blazes, according to a report issued at the beginning of May.
"Shifting winds and cooling temperatures may aid firefighting efforts," the Cal Fire updated stated. "Winds have shifted across much of Southern California bringing wind onshore with cooler temperatures and higher humidity. This shift will aid firefighters in their battle to contain the remaining wildfires."
However, red flag warnings for high fire danger were extended for parts of Tulare, Kern, Los Angeles and Ventura counties, according to Cal Fire. Those winds are expected to diminish Friday evening.
Here's a list of some of the fires and their status from Cal Fire:
Poinsettia Fire, San Diego County
Poinsettia Lane and Alicante Rodd in Carlsbad
400 acres – 85% contained
River Fire, San Diego County
North River Road and College Boulevard in Oceanside
105 acres – 30% contained
Full containment expected later today
Tomahawk Fire, San Diego County
Eastside of Camp Pendleton, west of Fallbrook
6,300 acres – 23% contained
Pulgas Fire, San Diego County
Northbound Interstate 5 at Las Pulgas Road north of Oceanside
8,000 acres – 5% contained
Freeway Fire, San Diego County
Northwest side of Camp Pendleton at the Naval Weapons Station
60 acres – 75% contained
Copyright 2020 Associated Press. All rights reserved. This material may not be published, broadcast, rewritten or redistributed.
Was this article valuable?
Here are more articles you may enjoy.