Officials say at least 47 homes were destroyed during last week's outbreak of nearly a dozen wildfires in San Diego County.
State fire officials said Sunday at least 39 homes in the suburb of San Marcos were destroyed.
Another eight houses were destroyed in the neighboring suburb of Carlsbad. Both suburbs are 30 miles north of the city of San Diego.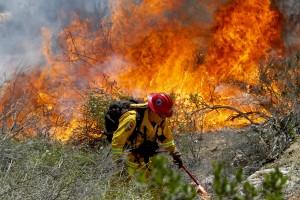 Authorities are still assessing the damages from the wildfires but so far losses have reached more than $20 million.
The San Marcos fire is the last of four remaining blazes still burning _ including three at Camp Pendleton Marine Corps base.
State fire officials say the San Marcos fire was 85 percent contained Sunday morning.
Firefighters have been helped by the weekend's cooler temperatures and calmer winds.
Copyright 2020 Associated Press. All rights reserved. This material may not be published, broadcast, rewritten or redistributed.
Was this article valuable?
Here are more articles you may enjoy.