A team of investigators from the U.S. Forest Service's law enforcement wing worked Tuesday to determine the cause of an Arizona wildfire between Flagstaff and Sedona, relying in part on dozens of tips from callers.
Coconino National Forest spokesman Brady Smith said federal officials could not reveal details of the investigation but believe the fire is human-caused. The five-person team was at the scene of the blaze.
"They feel good about the progress that they've made so far," Smith said.
The Slide Fire has burned about 32 square miles and continues to grow, stifling tourism in parts of the Sedona area, which usually is busy with visitors this time of year. Slide Rock State Park, one of Arizona's most-visited tourist spots, has been closed since the fire began May 20.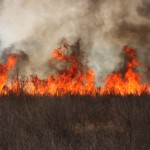 Smith says investigators have received about 80 tips from callers. It could still take months for them to pinpoint exactly how the fire began.
"It really depends on the types of tips that we get in and the information we're able to gather right off the bat," Smith said. "Some fires go unsolved forever."
More than 1,000 firefighters have worked on the Slide Fire, which has threatened 300 structures and caused evacuations in Oak Creek Canyon from Slide Rock State Park to Sterling Springs Hatchery.
No homes have been destroyed.
Copyright 2020 Associated Press. All rights reserved. This material may not be published, broadcast, rewritten or redistributed.
Was this article valuable?
Here are more articles you may enjoy.