Firefighters from throughout California have been dispatched today to protect homes threatened by a wildfire near Yosemite National Park.
The nearly 2-square-mile blaze in Madera County had destroyed eight structures and was threatening 500 others around Oakhurst, which is about 16 miles away from an entrance to Yosemite, fire officials said. Officials were hopeful, though, that cooler temperatures, higher humidity and calmer winds expected today would help them begin containing the blaze.
It was not clear how many of the structures under threat were homes, but mandatory evacuation orders went out to some 13,000 phone numbers for homes and businesses on Monday, according to sheriff's officials.
Four hotels in the community of Oakhurst about 16 miles away from an entrance to Yosemite were evacuated and Tuesday classes have been canceled for most of the Yosemite Unified School District.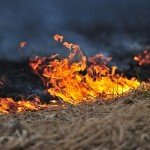 State Route 41 toward Yosemite was closed down in the area and travelers would need to use different routes into the park, authorities said.
The fire was burning near a propane business with 30,000 gallon tanks on site, but the tanks were spared and the threat to them was brief, according to the Modesto Bee.
The fire comes on the heels of another blaze around Yosemite this summer and last year's Rim Fire, which raged for two months across 400 square miles of land including part of Yosemite National Park. The Rim Fire threatened thousands of structures, destroyed 11 homes and cost more than $125 million to fight.
Last month's fire, which also burned in the park, threatened about 100 homes and sent smoke into Yosemite's famed valley before it was brought under control.
Meanwhile, another blaze that began Monday some 50 miles northeast of Bakersfield has surged to 3,000 acres, or nearly 5 square miles.
Copyright 2020 Associated Press. All rights reserved. This material may not be published, broadcast, rewritten or redistributed.
Was this article valuable?
Here are more articles you may enjoy.