Firefighters gained ground Tuesday on a blaze in the foothills near Yosemite National Park, allowing some of the 1,000 people who fled the flames to return to their homes.
Nearly 1 square mile in Madera County had been scorched, revising earlier estimates that it had spanned about twice as much ground, state fire officials said.
Flames erupted Monday near Oakhurst, a community of several thousand about 16 miles from a Yosemite entrance, forcing more than 1,000 people to evacuate and thousands more to prepare to leave their homes. Some residents were allowed to go home, but sheriff's spokeswoman Erica Stuart could not provide an estimate of how many.
Crews contained 30 percent of the fire, aided by humidity and calmer winds. Additional firefighters had been brought in to attack the blaze fueled a day earlier by gusty winds and dry brush.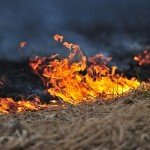 The blaze that destroyed eight structures did not affect Yosemite National Park, and the road leading visitors to the park reopened Tuesday. It once threatened about 500 homes, but the risk has been minimized, officials say.
The fire comes amid California's third straight year of drought, creating tinder-dry conditions that have significantly increased the fire danger around the state and sent firefighters scrambling seemingly nonstop from blaze to blaze.
The fire comes on the heels of another blaze around Yosemite this summer and last year's Rim Fire, which raged for two months across 400 square miles of land including part of Yosemite National Park. The Rim Fire threatened thousands of structures, destroyed 11 homes and cost more than $125 million to fight.
Last month's fire, which also burned in the park, threatened about 100 homes and sent smoke into Yosemite's famed valley before it was brought under control.
Meanwhile, an out-of-control blaze that began Monday some 50 miles northeast of Bakersfield surged to nearly 5 square miles, or 3,195 acres.
The fire burning near Lake Isabella in Kern County brought recommended evacuation orders for about 200 homes in several neighborhoods, the U.S. Forest Service said. A Red Cross evacuation center was set up at Kern Valley High School in Lake Isabella.
Some structures burned, but it wasn't immediately clear how many or if any were homes.
Associated Press writers Chris Weber in Los Angeles and Sudhin Thanawala in San Francisco contributed to this report.
Copyright 2020 Associated Press. All rights reserved. This material may not be published, broadcast, rewritten or redistributed.
Was this article valuable?
Here are more articles you may enjoy.