A Riverside County, Calif. chiropractor is accused of masterminding an elaborate fraud scheme that bilked insurance companies out of millions of dollars.
The Press-Enterprise reports Peyman Heidary is charged with heading a criminal organization that established medical clinics and a law firm that submitted thousands of workers' compensation claims for nonexistent or exaggerated injuries.
Heidary and three of his employees have been charged with 22 counts each of making fraudulent claims.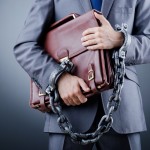 Court records show insurance companies were billed for at least $50 million, but prosecutors say the amount the companies paid to Heidary is less than that.
The criminal complaint filed last month lists the 44-year-old's aliases as Brian Heidary, The Godfather and Number One.
Copyright 2018 Associated Press. All rights reserved. This material may not be published, broadcast, rewritten or redistributed.
Was this article valuable?
Here are more articles you may enjoy.