A driver for Uber Technologies Inc. whose car struck and killed a six-year-old girl crossing a San Francisco street last New Year's eve was charged with misdemeanor vehicular manslaughter, a spokesman for the city's district attorney said.
The arrest of the driver yesterday, following a wrongful death lawsuit filed against Uber by the girl's family in January, could become another setback for the company as it strives to convince regulators that its service is safe. The app-based, on-demand transportation service has faced criticism in some cities for using drivers who don't have taxi or limousine licenses.
Portland, Oregon, yesterday cited licensing violations in a lawsuit seeking to block the company from operating there three days after it started. Transport officials in Rio de Janeiro similarly accused the car service of operating illegally in that city, while the Dehli state government shut down Uber in the Indian capital yesterday after one of its drivers was accused of rape.
Uber said after the six-year-old's death last Dec. 31 in its hometown that the driver was "a partner of Uber" who wasn't providing services on the Uber system at the time of the accident. The girl's mother and brother were seriously injured, according to the family's lawsuit in California state court.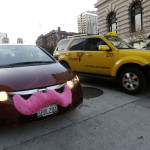 The driver, Syed Muzaffar, was released yesterday on $50,000 bail and is scheduled to be arraigned in state court tomorrow, Alex Bastian, spokesman for San Francisco County District Attorney George Gascon, said in a phone interview.
Driver's Lawyer
A lawyer who represented Muzaffar in the civil case said in January that his client, at the time of the accident, was logged into the Uber application, had previously picked up a rider and was waiting to be contacted by another rider when he turned into the intersection and failed to see the family in the crosswalk.
Graham Archer, Muzaffar's lawyer, didn't immediately respond after regular business hours to a phone call seeking comment on the arrest. Representatives of Uber also didn't immediately respond after regular business hours to a request for comment.
Uber has grown rapidly since starting in 2010. It's now available in more than 250 cities around the world and last week raised $1.2 billion in funding, increasing the company's $17 billion valuation in June to $40 billion.
Uber's backers include Goldman Sachs Group Inc. and Google Ventures. The company is now valued at four times that of other elite Silicon Valley startups, such as Airbnb Inc. Uber's value also dwarfs Tesla Motors Inc., which has a market capitalization of $26.8 billion. General Motors Co., the largest U.S. automaker, has a $52.6 billion value.
Taxi Drivers
Growth hasn't come without problems. In June, taxi drivers in London, Paris, Berlin and Madrid, among other European cities, protested against the startup, saying Uber had an unfair advantage because it didn't follow the same licensing regulations.
In Brazil, Rio's municipal transport department yesterday said it has filed a complaint with police against Uber and similar companies it says haven't requested licenses for taxi services in the city, which will host the 2016 Olympics. The head of Rio police's cyber crime unit is investigating the allegations, the police said via e-mail.
Portland alleged in its lawsuit in state court that the company is in violation of more than 20 civil and criminal law provisions requiring private transportation providers to have permits, decals, insurance, rates, wheelchair accessibility and record-keeping. The complaint, a copy of which was provided by the city, couldn't immediately be verified in court records.
"Uber has received a tremendously warm welcome from riders and drivers in and around Portland," Eva Behrend, a spokeswoman for the company, said in an e-mail. "We appreciate the way residents have welcomed Uber into the Rose City, their support illustrates why it's time to modernize Portland transportation regulation."
Behrend said that in less than four hours, almost 7,000 Portland residents signed a petition in support of Uber.
The case is City of Portland v. Uber Technologies Inc., Circuit Court of Oregon, Multnomah County.
–With assistance from Joel Rosenblatt in San Francisco, Serena Saitto in New York and Tariq Panja in Rio de Janeiro.
Copyright 2022 Bloomberg.
Topics Personal Auto
Was this article valuable?
Here are more articles you may enjoy.