The Consumer Federation of California is alleging that Geico Insurance Co. illegally quotes higher minimum automobile coverage levels than permitted under state law to unmarried, lower or moderate-income motorists
The allegations were made in a petition filed Thursday with the California Department of Insurance. It cites violations of California's Automobile Insurance Reform Act (Proposition 103), the California Unfair Insurance Practices Act and the Unruh Civil Rights Act.
The consumer group is calling on CDI to enforce state insurance laws by ordering Geico to halt these practices and impose penalties, which the group said may include fines and revocation of the company's license to sell auto insurance.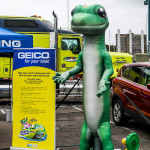 Spokespersons for Geico did not respond to several requests for comment.
According to the group, the targets of Geico's "deceptive rate quotes" are good drivers who have all the following characteristics: unmarried; not employed in a professional or executive occupation; have not completed college; and are not currently insured.
These consumers who obtain an online Geico quote are told the "Lowest Limits" coverages the company offers are at levels that are 500 percent to 1000 percent higher than the minimums required under law for good drivers, according to the group.
California law requires insurers to offer good drivers a policy with minimum coverages of $15,000 for a single injury, $30,000 for injury to more than one person in an accident, and $5,000 for property damage, a 15/30/5 policy.
When a good driver living in California fills in the online tool on Geico's website, and tells the company that he or she is unmarried, and does not have a college degree, and is currently uninsured, and is unemployed or not working in a professional or executive job, the company website presents a rate quote for six months of coverage labeled "Lowest Limits," and it offers: $100,000 for a single injury, $300,000 for injury to more than one person, and $50,000 for property damage, a 100/300/50 policy, according to the group.
If that person is a professional or executive, or married, or a college graduate, or has current insurance coverage, Geico's website produces a lowest Limits quote for one month of coverage including $15,000 for a single injury, $30,000 for injury to more than one person, and $25,000 for property damage, and the group alleges that the representation of $25,000 as lowest Limits for these good driver quotes is a separate violation of California insurance law.
The resulting premium quotes range from 40 percent to 54 percent higher, and are $75 to $132 more costly for six months of coverage for a 14-year-old compact car than the quote an otherwise identical driver would receive if that driver were married, or a college graduate, or in a higher-income occupation, or currently insured, according to the group, which said the quotes it obtained from Geico were for a 2000 Honda Civic.
"Our extensive analysis of Geico's online rate quote system found that it is programmed to target unmarried low or moderate-income drivers for inflated rates," Richard Holober, executive director of the group stated. "Targeted motorists either pay for excessive coverages they are falsely told are the lowest available, or Geico drives them away with these costly quotes. Either way, Geico is breaking California's insurance regulations and civil rights law."
The group also made a civil rights complaint based on "Geico's discriminatory treatment of unmarried consumers, as well as its discriminatory treatment of women in the very recent past."
Under Proposition 103 state insurance regulations do not permit use of education, occupation, or prior insurance as rating factors, and therefore an insurer should not require a potential customer to furnish this information before it provides a rate quote, the group said. An insurer may use marital status in setting rates – but not to mislead unmarried drivers about minimum coverage amounts.
Was this article valuable?
Here are more articles you may enjoy.