The California Earthquake Authority has again kicked off its annual "Marketing Value Program," in which the quasi-private earthquake insurer encourages agents to sign up to receive direct mail marketing pre-printed with agents' names to send to potential clients.
This is the program's fifth year, and there are some changes in store. An email promoting the program started going out to agents today.
In past the MVP program was rolled out in two separate periods during the year – spring and fall.
"We're moving to a year-round program now," said Glenn Pomeroy, CEO of Sacramento, Calif.-based CEA.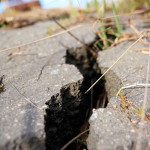 After the March 2 launch CEA will be out there continuously talking to agents, actively encouraging agent signups, which can now occur any day of year.
With an estimated 10 percent of California homeowners having earthquake insurance, CEA sees increasing takeup rates as one of its priorities, Pomeroy said.
See related story: Earthquake Authority to Study Quake's Impact on Napa Homes
Each year the MVP program is rolled out CEA gets more agents into the community talking to homeowners about the need to be covered when the "big one" hits, he said.
"Last year we had 2,400 agents that participated in our program," Pomeroy said.
Roughly 1.26 million mailers were requested during last year's campaign, according to the CEA.
From those requests CEA assembled and sent out more than 5,000 new policyholder kits with the selling agents' name to give to those homeowners who purchased insurance, according to the CEA.
"We think bigger things are going to be in store now that it's going to be available year-round," Pomeroy said.
The mailer offers a point-by-point pitch for homeowners:
"Home is the place you love the most. It just might be your most valuable asset. Which is why it's important to consider earthquake insurance," the mailer states
It goes on:
"Call me to discuss your:
Risk for earthquake damage
Costs to repair or rebuild your house
Value of personal belongings, and
Expenses to temporarily live and eat elsewhere."
Versions are available in English, Chinese and Spanish.
Other new features in the program include a Spanish language version of the mailers that can be targeted to renters, and a specific website for agents approved to sell CEA insurance.
"We're developing an agent portal," Pomeroy said.
Agents can go to the site and get access to FAQs, sales tips, the latest blogs on selling earthquake insurance, discussion threads, training video vignettes and an "overcoming objections" area.
"It'll be a place for them to come and see what's new in the program, and it'll be an easy way for them to order new materials," Pomeroy said. "I think the portal's going to be a real helpful feature for the agents."
Also popular is the CEA's earthquake preparedness kit, which Pomeroy said is given to new policyholders.
"It's about customer services, it's all about having communications with Californians about the need for earthquake insurance and it's all about recognizing the role that agents play in the whole string of dialogue," he said.
Was this article valuable?
Here are more articles you may enjoy.