Californians facing a fourth year of drought conditions – and some other parts of the West – shouldn't count on any relief in the coming months.
In California this doesn't bode well for chances of a mild wildfire season, and it's not good for agriculture or water conservation efforts.
The National Oceanic and Atmospheric Administration on Thursday issued its Spring Outlook forecast. It showed moderate flooding was likely in parts of the snow-bogged Eastern U.S., but the biggest concern NOAA scientists offered up on a morning conference call to discuss the forecast was the persistent drought over the Western U.S.
The long-awaited El Niño finally arrived in February, but forecasters say it's too weak and too late in the rainy season to provide much relief for California. The weather pattern failed to drench the state as it has in past episodes.
The forecast calls for drought to persist in California, Nevada, and Oregon through June with the onset of the dry season in April.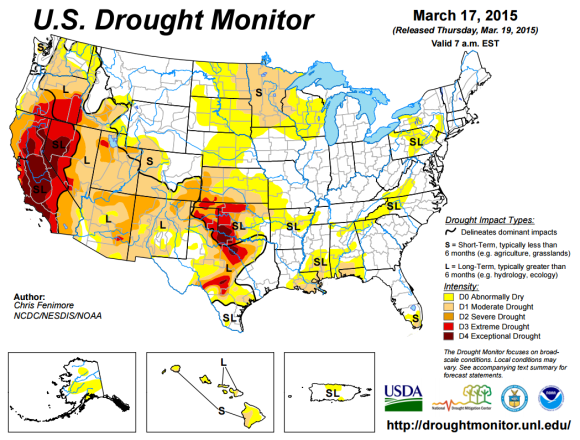 "Looking forward we expect little drought relief in California and the Western U.S.," said Jon Gottschalck, chief of the operational prediction branch at NOAA's Climate Prediction Center.
The lack of precipitation will likely yield an "early and active wildfire season," put stress on crops, and expand on water conversation measures being enforced in California, Gottschalck said.
California Gov. Jerry Brown said today he plans to detail new legislation to manage the state's worsening drought. Brown, who scheduled a news conference with legislative leaders for Thursday morning in Sacramento, has been calling for stricter water control measures.
The California State Water Resources Control Board in July set fines of up to $500 a day for residential and business property owners for over-watering lawns.
A NASA scientist in an op-ed in the LA Times last week said the state had one year of water supply left, noting that the usually wet month of January was the driest on record since data began being gathered in 1895.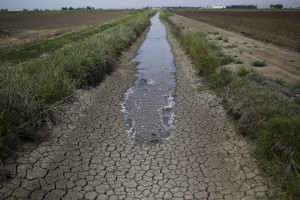 Water supply outlooks in the Western U.S. range from near normal in the Pacific Northwest, Northern Rockies, and Upper Colorado, to much below normal in California, the Southern Rockies, and portions of the Great Basin.
The chances for above-average temperatures are good this spring across the Far West, northern Rockies, and northern Plains eastward to include parts of the western Great Lakes, and for all of Alaska, according to the forecast.
Drought is also likely to continue in parts of the Southern Plains, and the report shows drought improvement or elimination is favored for some areas in the Southwest, Southern Rockies, Southern Plains, and Gulf Coast. Drought development is more likely in parts of the Northern Plains, Upper Mississippi Valley and Western Great Lakes where recent dryness and an outlook of favored below average precipitation exist, according to the report.
Topics California Oregon Nevada Aerospace
Was this article valuable?
Here are more articles you may enjoy.