Utah Gov. Gary Herbert has signed a bill that creates new statewide regulations for ridesharing companies like Uber and Lyft while overriding Salt Lake City regulations that have left the company's drivers with big fines.
Herbert's office announced Tuesday evening that the governor signed the proposal.
The law would require drivers to be covered with at least $1 million in liability insurance. The companies would be allowed to do their own background checks and vehicle inspections.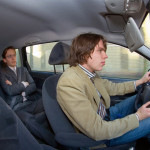 If the companies fail to comply, they can face a fine of up to $500 for each violation.
Representatives for Uber and Lyft have said they support the state proposal.
They opposed regulations passed by Salt Lake City last year, arguing they required additional checks that were redundant and burdensome regulations.
Copyright 2021 Associated Press. All rights reserved. This material may not be published, broadcast, rewritten or redistributed.
Was this article valuable?
Here are more articles you may enjoy.