Firefighters are battling a second wildfire in Alaska and officials say hundreds of homes have been evacuated and six structures have burned.
The fast-moving blaze erupted Monday on the Kenai Peninsula, roughly 100 miles south of a major wildfire that started a day earlier near Willow in the heart of the state's sled-dog community.
The new fire was first reported in the early afternoon as a 1-acre grass fire near the community of Sterling, but by early evening it had expanded to 640 acres was threatening some 200 homes.
Alaska's Department of Natural Resources says in a news release that the "explosive wildland fire on the Kenai Peninsula forced the evacuation of hundreds of homes," but did not provide a more precise figure. The statement said that it's still unclear if the burned structures are homes or some other type of buildings.
There have been no reports of any injuries in the new blaze, and two emergency shelters have been set up for evacuees.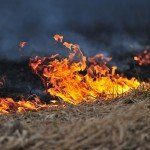 The Willow fire has led to the voluntary evacuation of up to 1,700 structures and has struck the heart of sled dog country, including 15 or so mushers who call Willow home.
About 500 dogs have been rescued, according to Matanuska-Susitna Borough Assembly member Vern Halter, a former Iditarod musher.
About 200 of those dogs ended up with four-time Iditarod champion Martin Buser at his kennels in Big Lake about 20 miles from the fire. He also was taking in displaced residents, including veteran Iditarod musher DeeDee Jonrowe, who lost her home.
"Everybody's relieved that their dogs are safe and here, but the people that have lost their homes, they are dejected," Buser said Monday afternoon in a phone interview. "And people that their homes got spared are elated."
On Monday, Gov. Bill Walker took an aerial tour of the fire, which has burned at least 25 homes and up to 20 other structures including sheds and outhouses. Walker later said he accepted the Matanuska-Susitna Borough's request for state disaster declaration for the affected area.
Fire information spokesman Tim Mowry said 210 residents signed in at evacuation centers in Houston and near Talkeetna. Officials said Monday afternoon that the fire was zero percent contained, with the weather expected to continue to be warm and dry. One firefighter has been treated for heat exhaustion.
Residents with properties away from the fire have been taking to Facebook on a site dedicated to the fire to offer their homes and properties to displaced people.
Among them was Kendra Zamzow, who was offering space for people and animals on her 2-acre property in the community of Chickaloon about 50 miles southeast of the fire.
"I have plenty of room," she said.
Robin Edgell only had time to grab one thing when she fled her home in Willow: "Pictures, the only things that can't be replaced," she said outside a motorhome parked at the Red Cross evacuation center.
Copyright 2023 Associated Press. All rights reserved. This material may not be published, broadcast, rewritten or redistributed.
Topics Catastrophe Natural Disasters Wildfire
Was this article valuable?
Here are more articles you may enjoy.