Intensifying wildfires in Alaska have led to evacuations in several parts of the state, including a tiny village where residents fled on boats. A firefighter on one blaze also was treated for a bear bite after encountering the animal while battling a fire.
Crews were being stretched thin as 61 new fires ignited in the state, according to new figures released Tuesday. Much of the activity was in the hot, dry interior. Altogether, 242 fires were burning on nearly 503 square miles.
A small lightning-sparked fire grew to more than a square mile in size just outside the Yukon River village of Nulato, prompting evacuations Monday evening from the Athabascan community of 250.
The airport was too smoky for air evacuations, so villagers traveled 36 miles by boat to the village of Kaltag, lifelong resident Monica Ambrose-Fruehan said Tuesday. She spent all night going back and forth between the communities to drop off people and dogs. Some people chose to stay in Nulato.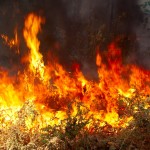 Ambrose-Fruehan said in a phone interview from her home in Nulato that the fire appeared to be contained by Tuesday, but it left behind charred trees and it burned an old smokehouse at the old village site more than a mile away. Everything in the current community itself, however, was spared. Ambrose-Fruehan said she hoped to start bringing people back by Tuesday evening.
"I hope it's OK now because, oh, this is too much," she said. "Very little sleep."
A firefighter working the Juneau Lake fire was bitten by a bear Monday night on a remote trail in the Chugach National Park, spokeswoman Elayn Briggs said. The firefighter was treated minor injuries at an Anchorage hospital, where he was flown after the encounter.
Fire managers said they have requested additional fire crews from the National Interagency Coordination Center to augment crews stretched thin in Alaska.
Fire information spokesman Tim Mowry said some people are comparing this year to the heavy fire season of 2004.
"The thing is, once you get this many fires, you just can't put them all out," he said. "So it makes for a long summer."
In Alaska, many remote fires far from populated areas are monitored rather than being suppressed.
Of the dozens of active fires, only 31 are staffed. Those include other fires that have forced evacuations of residents in threatened rural areas.
A two-fire complex southwest of Nenana that has burned nearly 12 square miles prompted the evacuation of about 25 people and burned half a dozen structures. Evacuations also were taking place because of wildfires near the eastern Alaska community of Eureka and just north of Fairbanks.
The new blazes come just as fire crews are mopping up two large human-caused wildfires that had threatened communities before cooling temperatures over the weekend gave firefighters a break.
A fire near Sterling on the Kenai Peninsula destroyed 11 structures. Officials said fire activity has picked up a bit and is expected to increase over the next couple of days because of rising temperatures.
The other fire, in Willow north of Anchorage, destroyed 55 homes, according to new figures released Tuesday after a damage assessment conducted by the Matanuska-Susitna Borough. Fire managers earlier said 26 homes had burned.
Copyright 2020 Associated Press. All rights reserved. This material may not be published, broadcast, rewritten or redistributed.
Was this article valuable?
Here are more articles you may enjoy.