The tropical Pacific is sending a big dollop of rain into the U.S. Southwest. While it won't help much in drought-ridden California, it's another step in the right direction for Arizona and New Mexico.
The annual monsoon can ease the prolonged dry spell in these two states, said Mark Svoboda, a climatologist at the National Drought Mitigation Center in Lincoln, Nebraska. California needs snow and that won't come from this storm.
"For the Southwest, it is a good movement toward improvement, but as you go west it is a little dicier," Svoboda said.
About 93 percent of Arizona and almost all of California are either abnormally dry or in drought, according to the U.S. Drought Monitor, also in Lincoln, Nebraska. The western half of New Mexico is also dry.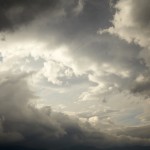 A tropical depression, which belongs to the same class of storms as hurricanes, formed in the Pacific off the west coast of Mexico's Baja California Sunday and then moved northeast onto the mainland and into the U.S. Southwest.
The rains that started Monday will continue through Tuesday and have prompted flash-flood watches from southern California to western New Mexico. A wide swath of the region could get 1 to 2 inches (2.5 to 5 centimeters), with more in some isolated areas.
For southern Arizona, Tropical Depression 16-E will supply most of the rain, said Jim Meyer, a National Weather Service meteorologist in Tucson. In California, a secondary low-pressure system that was about 600 miles (965 kilometers) southwest of San Diego Monday, will act as a pump to bring in precipitation, according to James Thomas, a weather-service meteorologist. Low- pressure systems spin counter-clockwise in the northern hemisphere and that "brings up all the moisture from the south," San Diego-based Thomas said.
If the downpours in New Mexico and Arizona are augmented by steady rain through the winter, caused by an El Nino in the equatorial Pacific, that could help the region lift out of drought, Svoboda said.
California is "more interested in snowpack," Svoboda said. The rains falling now aren't what the state needs for long-term relief, and with temperatures ranging close to 100 degrees Fahrenheit (38 Celsius) across southern California this week, snow isn't likely anytime soon.
Copyright 2023 Bloomberg.
Topics California USA Mexico New Mexico Arizona
Was this article valuable?
Here are more articles you may enjoy.