California Governor Jerry Brown last week directed $10 million from the state's budget reserve to help pay for the removal of huge amounts of burned debris left in the wake of two massive wildfires, the administration said.
In a letter to leaders of the legislature's budget and appropriations committees, the Brown administration said the debris poses a threat to lives, public health and safety.
"Fast debris removal is also necessary to enable community rebuilding and economic recovery of impacted communities," administration officials said in the letter.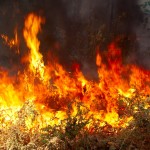 The Valley and Butte fires together have burned more than 145,000 acres, killed three people, seriously injured four firefighters and destroyed 1,713 homes.
The administration told lawmakers that while additional funds will be needed down the road for the effort, it noted that the Obama administration's major disaster declaration will mean that a significant amount of the costs may be eligible for federal reimbursement.
(Reporting by Rory Carroll; Editing by Bernard Orr)
Related:
Was this article valuable?
Here are more articles you may enjoy.