A new ordinance banning the use of any mobile device while driving a vehicle in Tempe went into effect over the weekend.
A distracted driving ordinance approved by Tempe City Council members last month began Saturday.
The law prohibits texting, talking or any activity with an electronic device that could create a distraction while driving.
Devices include iPods, laptops or anything that isn't hands-free or voice-operated.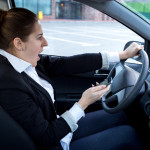 Tempe police plan to give drivers a 90-day grace period where they will only issue warnings. Ticketing will begin Jan. 22 and drivers found violating the ordinance for the first time will be fined $100.
Offenders repeating violations in a 24-month period will be fined $500 along with a penalty.
Related:
Copyright 2021 Associated Press. All rights reserved. This material may not be published, broadcast, rewritten or redistributed.
Was this article valuable?
Here are more articles you may enjoy.